William A. Irving Sr.
GRAY — William Arthur Irving (Bill) Sr., 65, of Gray died on Oct. 8, 2010, in Boston, Mass., while receiving treatment for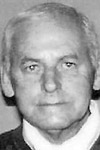 lung cancer.
Bill was born on April 9, 1945, in Portland, the son of William Elmore and Marie Rose Irving. He attended Portland elementary schools and Greely High School in Cumberland. Bill worked all his life in the masonry and construction trades at T.E. Low in Yarmouth and later as a General Contractor at H.E. Callahan in Auburn. His work always reflected his commitment to excellence.
Bill married Kathy Heinonen of Cumberland in 1963, and they raised two raised sons, William and Wesley. He married Patricia Gann Thornfeldt in 1988 and adopted two beautiful special needs children, Nathan Cronk and Victoria Irving.
Bill enjoyed car racing and raced at Beech Ridge Speedway in his early years. He was very proud of his son William who raced and excelled at Oxford Plains Speedway.
Bill enjoyed wintering at his home in Lehigh, Fla. and summers at his camp in Monson with his wife Pat. He enjoyed spending time with son Wesley and brother Jerry at camp working on various improvement projects. Some of his favorite times were spent playing cribbage and socializing with his many friends at the Cafe Sebago in Raymond.
William is survived by his loving wife of 22 years, Patricia Irving of Gray; son Wesley Irving of New Gloucester; son Nathan Cronk and daughter Victoria Irving, both of Mechanic Falls; stepdaughters, Susan Thornfeldt of Portland and Kristine Lang of Sebago; stepson, Erik Thornfeldt of Bryant Pond; a sister, Carol Low of Yarmouth; a brother, Gerald Irving of Naples; five grandchildren; three nephews; many cousins and friends.
He was predeceased by his son, William Irving Jr.
Visitation was held on Wednesday at Wilson Funeral Home, Gray, where a funeral will be held at 11 a.m. on Thursday. Committal will be in Gray Village Cemetery.
Please follow and like us: