Student of the Month: Elysha Bosworth
Elysha Bosworth of Naples has been selected as the area Lions Clubs' "Student of the Month" for October.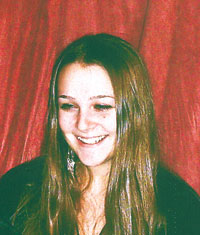 Each month, area Lions Clubs recognize a Lake Region High School senior who has excelled academically. The recipient is honored at a Lions' dinner meeting and is presented a savings bond.
Parents: Todd and Jen Bosworth.
Siblings: Theodore ("T") Bosworth and Daria Bosworth.
Activities: Track and field (indoor and outdoor), school play and musical.
Community activities: Tutoring.
Hobbies: Rock climbing, SCA events, reading.
Future plans: Counseling psychologist specializing in children.
What is your favorite class? English, because I love reading and discussing the finer points of literature. It is what I love and a challenge all in one.
What is your toughest class? Math, because I have a hard time learning the concepts and applying them.
How do you balance your class work and your extracurricular activities? I am extremely organized. I plan my day on a tight schedule and go from there. I take everything as it comes, one thing at a time.
What is the biggest challenge high school students face today? Balancing schoolwork, a job and extracurricular activities. Also, dealing with the multiple pressures that society is pushing on college-bound students.
Who has inspired you educationally? My parents. They always impressed upon me the importance of learning, but at the same time, they always accepted my best efforts. I have learned much from them and expect to continue to learn the most valuable lessons from my parents.
Please follow and like us: