Maurice E. Robbins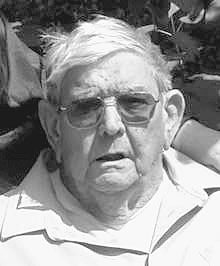 NORWAY — Maurice E. Robbins died on April 4, 2012, at Stephens Memorial Hospital in Norway. Maurice was born on June 20, 1932, in his family's home on Bell Hill in Otisfield.
He was predeceased by his parents, Edward A. and Ruth M. (Powers) Robbins; brothers Bruce E. and Everett C. Robbins, and a sister, Mary Eva (Robbins) Gray.
Maurice was a Registered Maine Guide and loved to teach his family to hunt and fish. He was a Master Mason, being raised in the Oriental Lodge in Bridgton and was a fifty-year member of Tyrian Lodge in Mechanic Falls. He was also a member of the Kora Temple Shriners in Lewiston. Maurice also enjoyed his membership in Dwinal Chapter of the Order of Eastern Star in Mechanic Falls.
He retired from Central Maine Power Company after working through the ranks to lineman, Town Representative of the Raymond area, and finally to District Foreman for the South Paris District.
Maurice was very civic-minded. He served on the School Board of Directors for SAD #61 and was also the Chairperson. He was Co-Chairman of Casco Day for many years. Harrison Old Home Days was also reinstituted with Maurice's help. He helped form and was the first President of the Crooked River Snowmobile Club. He enjoyed riding his ATV and was a member of the Lakes Region ATV Club. He loved sports. He was effective in assisting the town of Harrison in developing the Field of Dreams. His love of and joy in children made him a perfect Santa's Helper for many years. Maurice was also a supporter of the Maine Red Claws.
After serving in the U.S. Army from 1952–1954, he returned home to marry the love of his life, Sara (Sally) Johnson on April 1, 1955. Together they raised their three children, Susan of Naples, Willis (Bill) of Westbrook, and Sylvia of Harrison. The family enjoyed many outdoor activities together over the years including camping, boating, and traveling. Maurice was also an animal lover and was a friend to many family dogs.
Maurice is also survived by brothers, Robert and wife Ann of Bridgton, David and wife Rhonda of Leesburg, Ga.; and sisters, Edenna (Robbins) Barker of Lewiston, Judy (Robbins) and husband Dan Brown of Alfred, and Iris (Robbins) Osgood of Bridgton. Besides his children he also had three grandchildren he adored, Hannah Bea Robbins, his favorite granddaughter and her fiancé, Nicholas Gregoire of Portland, and grandsons, Paul Robbins and Joshua Wood of Westbrook. He is also survived by daughter-in-law Pam (Wood) Robbins and Susan's husband, Michael Robbins; as well as many loving nieces and nephews and their families.
Maurice will be missed by his family and friends. They gathered together to celebrate his life at the Hall Funeral Home, Quaker Ridge Road, Casco, on Monday, April 9, 2012. Online condolences may be left for the family at hallfuneralhomeinc.com
Please follow and like us: