Marie A. Longley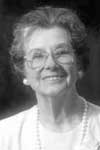 LEWISTON — Marie Ange Longley, 91, of Lewiston, died Sunday, March 11, 2012 at The Hospice House of Androscoggin Home Care & Hospice in Auburn where she spent her last days surrounded by her family.
After leaving the family home in Lewiston in November, 2003, Marie spent most of her remaining years at the Montello Heights Retirement Community, followed by a short stay at Russell Park Living Center, both in Lewiston.
Marie was born July 6, 1920, in St-Alexis-de-Matapedia, Quebec, to Arthur and Cedelise (Dufour) Plourde. While she was still an infant, her family moved to Lewiston in 1923, arriving via the Grand Trunk Railroad, where Marie lived the rest of her life. On April 26, 1947 she married Thomas Allen (Al) Longley, who passed away on May 8, 1983. Together they raised their five children.
She had a strong faith in God and was a longtime member of St. Patrick's Church in Lewiston. She was active in the Rosary Sodality, and volunteered her time at the St. Vincent de Paul Thrift Store. In addition to being a housekeeper, Marie worked for a time in the Lewiston School Lunch Program. In the 1940s, she worked in the Cushman Shoe Shop in Auburn.
One of her early hobbies included still life painting, which was quite remarkable. Her children wonder where this expression would have led had she received formal training. Marie was the best and most loving mother to her children. They recall all the care that she took in cooking and baking for them. She was the heart and warmth of their home, filling it with the aromas of fresh baked cookies, cakes, and roasts.
She is survived by five children, Peter Longley of Cumberland, Susan Tardif of Sanford, Thomas of Turner, Daniel of Raymond and Gerald of Greene; 13 grandchildren; and a growing list of great-grandchildren currently numbered at 13; and surviving brothers and sisters.
Donations, condolences and a photo tribute may be accessed online at www.albert-burpee.com. Arrangements were by Albert & Burpee Funeral Home in Lewiston. Visitation and funeral services were held on Wednesday. Interment will be in the spring at the Maine Veterans Memorial Cemetery.
Donations may be made in her memory to: Alzheimer's Association Maine Chapter, 383 US Route One, Suite 2C, Scarborough, ME 04074.
Please follow and like us: