Leatrice J. Record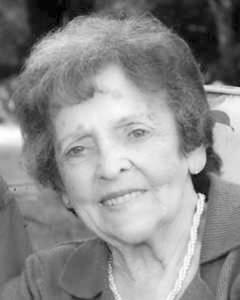 AUBURN — Leatrice June (Millett) Record, 82, of South Paris, passed away Friday, May 25, 2012 at the Hospice House in Auburn with her loving family at her side.
Leatrice was born June 13, 1929, in South Paris, the daughter of Bertrum F. Millett and Elva G. (Chapman) Millett. She lived in East Waterford most of her childhood and attended school in Waterford. She was a sharp student, an outstanding softball player and she played basketball at Bridgton Academy, where she graduated in 1946 at the age of 16.
On Jan. 24, 1948, Leatrice married Edwin H. Record. They were married in a double wedding with her close childhood friend, Geneva Foster, who married Harold Springer.
In her teen years, Lea worked at a summer camp on Keoka Lake in Waterford. She worked for many years in the apple business, picking and packing apples for Wesso Orchards and later Cooper Farms of West Paris. She liked working in the orchards during the fall harvest. She looked forward to her summers off to spend time with her family and help raise her grandchildren.
She loved going "up to camp" in the Rangeley Lakes region, where she enjoyed fishing, snowmobiling and the outdoors. Leatrice enjoyed children, baking, dancing, quilting and playing cards. She was an excellent housekeeper. She had a great sense of humor and was known for her witty one-liners. She looked forward to laughing it up or "YawHawing" as she put it with her friends, "The Girls," on their lunch excursions and outings.
Leatrice lived a long and fulfilled life with her husband, Ed, close family and their many good friends.
She is survived by her brother, Roger Millett of Turner; her caring husband of 64 years, Edwin; sons, Bradley Record of South Paris and Douglas Record of North Haven; a grandson and two granddaughters; a step-granddaughter; three great-grandsons; and many nieces and nephews.
She was predeceased by her parents.
Online condolences may be expressed to the family at www.oxfordhillsfuneralservices.com
Family and friends are invited to attend visiting hours from 6 to 8 p.m. Thursday, May, 31, at Oxford Hills funeral services, Route 26 in Oxford. Funeral services will be held 11 a.m. on Friday, June 1, at the First Congregational Church, 27 East Main Street, South Paris.
In lieu of flowers, please make donations to the Hospice House 236 Stetson Road, Auburn, ME 04210.
Please follow and like us: