Karen O. Toner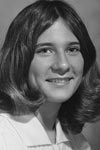 HARRISON — Karen Orsini Toner, 55, of Harrison passed away on Sunday, Jan. 22, 2012 after a long struggle with Multiple Sclerosis (MS).
She was born in Webster, Mass. on June 19, 1956, the daughter of Anthony Robert and Marilyn Sheriffs Orsini. She graduated from high school in Southbridge and Central Texas College as a paralegal. She had been employed by Dr. Gene Silverblatt in Texas.
She married James Toner on May 25, 1993.
She was a member of the DAR, the Christ Episcopal Church and Secretary of R.S.D. Hope.
She is survived by her husband of Harrison; her mother of Harrison; four children, Brian, Sabrina, Angela and Carolyn; five grandchildren; four brothers, Ronald of Maine, Robert of Georgia, Keith of North Carolina and Kevin of Ohio; and several nieces and nephews.
She was predeceased by her father.
Online condolences may be shared with her family at www.chandlerfunerals.com
A memorial service will be held at the Christ Episcopal Church in Norway on Tuesday, Jan. 31 at 11 a.m.
Donations in her memory may be made to the Multiple Sclerosis Society, 170 US Route 1, Suite 200, Falmouth, ME 04105 or the Christ Church Memorial Fund.
Arrangements are under the direction of Chandler Funeral Homes & Cremation Service, 45 Main Street, South Paris.
Please follow and like us: