Henrik Schaeflern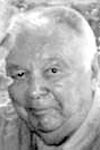 RAYMOND — Henrik Schaeflern, 83, of Raymond, died on May 31, 2011, following a motor vehicle accident.
He was born on Aug. 3, 1927, in Budapest, Hungary. He and his family spent many summers at Lake Balaton, southwest of Budapest. He witnessed the Hungarian Revolution in 1956 and was able to escape Communist rule by crossing the border into Austria, where he lived until he was able to travel to Germany.
He was helpful to the refugee effort that dispersed throughout the world following the uprising in Hungary with his expertise in linguistics. He boarded a ship for the United States.
In the United States, he continued his education in engineering and mechanics and completed his degree at the Newark Institute of Technology.
He met his future wife, Marie-Jeanne of Nancy, France, while studying for his citizenship. They were married on Aug. 2, 1958. He often said that he was not a hyphenated American, not a Hungarian-American: he was a proud American.
He worked for many years as a design engineer at Singer Corporation in Elizabeth, N.J., with many patents for both sewing machine and knitting machine mechanisms.
He was a proud father of his two daughters, Patricia and Kathleen, and his two grandsons. His grandsons spent many hours playing chess with their grandfather and listening to stories of his past. He loved do-it-yourself projects, fishing, cooking, and painting. He was a handyman to many family, friends and neighbors over the years.
He will be sadly missed for his warm personality, helpful advice and giving nature. We love you Papa. Please watch over us.
A memorial service was held on Friday at Immaculate Heart of Mary Parish at Sacred Heart Church, a service of The Fortin Group Funeral Home, Cremation and Monument Services, 217 Turner St., Auburn. Family and friends are invited to offer condolences and pay tribute to Henrik's life by visiting his guest book at www.thefortingroupauburn.com.
In lieu of flowers, the family asks for a donation to a college fund for his grandsons be made in its place.
Please follow and like us: