Carol E. Lolley
RAYMOND — Carol Elaine Lolley, 48, died Monday morning, Jan. 10, 2011 at her home in Raymond.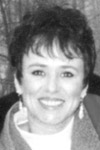 She was born in Lewiston at Central Maine General Hospital on March 31, 1962, the daughter of Odna Skillings and the late Philip W. Skillings. She attended schools in Sebago and Bridgton. She was proud of being a CAN and an emergency room technician.
She is survived by her husband, James R. Lolley of Raymond; her son, Brian L. Skillings of Casco; her stepdaughter, Melissa A. Lambert of Casco; her stepson, James R. Lolley II of St. George, Utah; her mother and stepfather, Odna and Chip Wiggin of Bridgton; her sisters, Christine L. Skillings of Bridgton, Cynthia L. Barker of Maryville, Tenn., Cheryl L. Fulcher of Sweden, Gwendolyn E. Skillings of Fryeburg and Patricia B. Wiggin of Portland, Ore.; two brothers, Garry P. Skillings of Berlin, N.H. and Philip R. Rand of Auburn; and five step-grandchildren.
She was predeceased by her brother, David Wayne Skillings of Palm Spring, Calif.
Visiting hours will be held on Friday, Jan. 14 from 6 to 8 p.m. at the Church of Jesus Christ of Latter Day Saints (which she was a member), Skeetfield Road, Oxford and funeral services will be held at the church on Saturday, Jan. 15 at 2 p.m. Burial will be later in the spring in Bridgton.
Please follow and like us: