Ada C. Wadsworth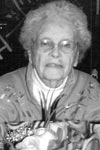 HIRAM — Ada Cram Wadsworth, 100, of Hiram, passed away peacefully at her home on Sept. 21, 2011.
Ada was born in West Baldwin on Nov. 20, 1910, the daughter of Rudolph and Marceline Downing Cram. She attended Bridgton Academy and graduated from Colby College in 1931 with a teaching degree.
Ada met Paul Wadsworth while she was teaching at Fryeburg Academy, and they were happily joined in marriage on Feb. 14, 1935. Ada and Paul established Old Homestead Farm in Hiram, where she enjoyed raising their family in a close-knit community. Many social gatherings were held at their home, formerly the Spring House, est. 1795.
Ada was an active member of the Hiram Congregational Church, a past matron of the Eastern Star, and an active member of the Mt. Cutler Grange. She was proud of being the librarian at Soldiers Memorial Library in Hiram for many years. Ada had fond memories of her time at Fryeburg Academy, which now bears her name on the Ada Cram Wadsworth Arena.
Ada was predeceased by her husband of 56 years; her two brothers, Bion and Howard Cram.
She is survived by two daughters, Ruth Payne of Hiram and Mary Lowatchie of Falmouth; her four grandchildren; and four great-grandchildren.
A graveside service was held on Sunday, Sept. 25, at the Hiram Village Cemetery. Pastor William Rankin officiated. Arrangements were by Watson, Neal & York Funeral Home, Cornish.
In lieu of flowers, donations may be made to: Hospice of Southern Maine, 180 U.S. Route 1, Scarborough, ME 04074.
Please follow and like us: