Willis L. Stepp
AUBURN — Willis L. "Red" Stepp, 91, of Poland Springs passed away on Feb. 25, 2011, while in the care of The Hospice House in Lewiston.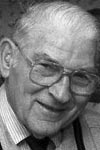 He was born on Dec. 3, 1919, in Butler Co., Penn. to Merle L. and Ethel Olive (Lefever) Stepp.
Red enlisted in the Navy during WWII and served on the USS Dionne (DE-261), a destroyer escort set off into the Pacific, protecting U.S. convoys. While stationed in Portland, he met his lifelong bride, Pauline E. Eastman, whom he married on June 9, 1943.
Red's life and love revolved around his family and his faith. A born-again Christian, Red taught a young couple's Sunday school class every Sunday at the Christian and Missionary Alliance Church in Portland for over 30 years. After retiring, he and his wife of 68 years became members of the Poland Baptist Church, where Red also taught Sunday school for as long as his health permitted. He was known for his deep and infectious laugh, his love of the Pittsburgh Steelers and the enjoyment brought from hunting, fishing and the great outdoors. Of very special joy to Red were all the hours he spent with each and every grandchild and great-grandchild.
A pipe fitter by trade, Red was a member of Local 217 of the United Association Union of Plumbers, Fitters, Welders and HVAC Service Techs. Red's intelligence, skill set, work ethic, and integrity made him a highly sought-after man for such major local projects as the HVAC systems in the Maine Medical Center and Northeast Cold Storage in Portland, Central Maine Medical Center in Lewiston, and the Maine State Prison in Thomaston. Once when hospitalized at Central Maine Medical Center in Lewiston, Red told of his previous hospital visits, crawling around in the ceiling he was viewing from his bed.
Red is survived by his wife; five children, Sandra Ciufia of Monterey, Calif., James Stepp of Casco, Susan Smith of Newark, Del., Pamela Stepp of Chicago, Ill. and Stephen Stepp of Millbrook, Ala.; 10 grandchildren; five great-grandchildren; one sibling, Jean Bailey of Gibsonia, Penn.
In addition to his parents, he was preceded in death by two brothers, Theron (Chip) and Richard (Dick) Stepp and a sister, Ethel (Betty) Oswald.
Friends will be received by the family at Hall Funeral Home, 165 Quaker Ridge Rd., Casco, on Tuesday, March 1 from 2 to 4 p.m. and from 6 to 8 p.m.
A memorial service celebrating the life of Willis L. Stepp was held on Wednesday, March 2 at the Poland Baptist Church, Maine St. (Route 26), Poland. Interment will be private.
In lieu of flowers, the family requests donations in Red's memory be sent to: The Hospice House of Androscoggin Home Care & Hospice, 15 Strawberry Ave., PO Box 819, Lewiston, ME 04243-0819 or The Gideon's International, PO Box 140800, Nashville, TN 37214-0800.
Please follow and like us: