Sylvia M. Douglass
SOUTH PARIS — Sylvia Mills Douglass, 86, of South Paris, passed away peacefully at her home on Feb. 2, 2011, after a long courageous battle with cancer.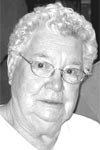 She was born in Lovell on Nov. 20, 1924 to George and Frances Andrews Mills. She married Herbert Smith in Jan. 1942. They had four children, Faye, Rodney, Eugene and Keith. Herbert died in June of 1946, leaving Sylvia with four small children.
She met Lawrence Douglass in 1947, and married him in 1961. He passed away Feb. 3, 1977. Sylvia was employed at area manufacturing companies, retiring from Miller Shoe in 1994.
She loved baking for family and friends, her specialty was apple pie and breads. Crocheting was her passion. Over the years, she made hundreds of lap robes and donated them to area nursing homes.
She enjoyed camping at Mac's camping area and playing bingo. She liked to volunteer at Oxford County Extension and the Stephens Memorial Hospital thrift shop. She also enjoyed creating many things from plastic canvas.
She was notorious for making all the Christmas decorations and ornaments for the tree at Rustfield Village, where she had resided for the past 12 years, before moving in with her granddaughter, Kim and her husband, Dean. There, she enjoyed being in the gardens, watching the birds and having Dean cook a red dog on the open fire.
At family gatherings, and there were many, Nana was the life of the party. She was proud of her large family.
She is survived by three of her children, Faye MacDonald and husband Mac of Poland and Zephyrhills, Fla., Rodney Smith and wife Lorraine of White River Junction, Vt., and Keith Smith of Dorchester, N.H.; daughter-inlaw Carolee Masselli of Chiefland, Fla.; 12 grandchildren, Scott, Vanessa, Shane, Tammy, Tanya, Todd, Jeff, Gary, Randy, and three special granddaughters, Wanda James of Oxford, Kim Ayotte of South Paris and "her baby," Candy Meziani of Bridgton; 24 great-grandchildren; three great-greatgrandsons, Jacen and Jeremiah of Florida, and "her boy," Lennox of South Paris; four brothers, Carl of Brownfield, Dwight, Thurman and wife Fern, and Wayne and wife Sandy, all of Porter; two sisters, Maxine and husband Bob of Parsonsfield, and Hilda and husband Forrest of Porter; and many, many nieces and nephews.
She was predeceased by her parents; a son, Eugene; a brother, Robert; a sister, Josephine; and a grandson, Mark Bumpus.
The family would like to extend thanks to the Center for Cancer and Blood Disorders at St. Mary's Hospital, with special thanks to Melanie; and to the staff at Oxford Hills Family Practice with special thanks to her friend and longtime doctor, Dr. James Eshleman. Thanks also to Androscoggin Home Care and Hospice for always being there for us.
A graveside service will be held in the spring at Porter Village Cemetery in Porter. In lieu of flowers, donations in her memory may be made to the First Congregational Church, 17 East Main Street, South Paris, ME 04281, or Androscoggin Home Care and Hospice, P.O. Box 819, Lewiston, ME 04240.
Arrangements were under the direction of Chandler Funeral Homes & Cremation Service, 45 Main Street, South Paris. Online condolences may be shared with her family at www.chandlerfunerals.com
Please follow and like us: