Russell W. Thompson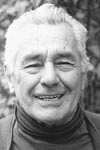 HARRISON — Russell W. Thompson, 99, of Harrison, Maine died Jan. 8, 2012 at Norway Rehab after a sudden illness.
Born in Quincy, Mass., Russ spent much of his life working as a steel rigger with U.S. Steel and served as a Union leader. He was always active in politics, serving as President of the Democratic Committee.
His interest in politics continued after retiring to Harrison, where he served as Selectman for many years as well as working with the Harrison Democratic Committee. He changed local politics and was instrumental in getting Harrison to change the election of town officials to secret ballot. He and his beloved wife, Maxine Dyer Thompson, enjoyed their retirement but Russ was always looking for things to do. He planned and organized Senior Citizen bus tours for many years, promoted recycling programs, raised money for the Caswell Public Library for many years and established the Book Fund in memory of his late wife, Maxine. He also established the Maxine Thompson Scholarship Fund, in memory of his wife, to provide educational funds for Bridgton Hospital employees interested in furthering their non-nursing hospital careers. The scholarship was announced each year in May, to coincide with Mrs. Thompson's birthday. Russ attended every year to personally present the award.
Russ was an asset to the community, an interesting man who enjoyed sharing his views and stories of all of his travels. For many years, he sold ride tickets at Harrison Old Home Days and traveled with Smokey's Greater Shows throughout New England and Fla.
Russ was a devoted father of Robert, David and Michael Thompson; loving grandfather of Keith, Brent and Scott Thompson of Conn., Brian, Kimberly, Scott, Bradd and Kristy Lynne of N.J.; great-grandfather of Paige, Ashley, Kaitlyn, Annabelle, Kelly Ann, Ava, Lily, Ella and Jack Scott Thompson.
At Russ's request no service will be held. In lieu of flowers, contributions may be made to the Harrison Public Library, P.O. Box 597, Harrison, ME 04040, or to the Bridgton Hospital, 10 Hospital Drive, Bridgton, ME 04009.
Please follow and like us: