Paul A. Whitney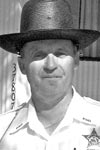 DADE CITY, FLA. —Paul A. Whitney, 67, of Dade City, Fla., and formerly of Fryeburg and Conway, N.H., died Saturday, April 9, 2011 at The Florida Hospital in Zephyrhills, Fla.
Paul was born in Fryeburg on Feb. 10, 1944, the son of Arlington and Nellie (Smith) Whitney. He attended Fryeburg Elementary and graduated from Fryeburg Academy in 1962.
Paul married Dorothy Pierce on June 23, 1962. He was currently employed with the Pasco County Sheriff's Department as a Traffic Control Officer. Before moving to Florida, Paul worked for Forest Industries for 25 years. He also worked for Fryeburg Academy and drove school bus for Laidlaw.
Paul was preceded in death by his parents and sister Brenda.
Paul is survived by his loving wife, Dorothy; his son, Stephen of Bridgton; his daughter, Selena Craw of Washburn; his son, Shawn of Little Rock, Ark.; 12 grandchildren, four great-grandchildren, and several nieces and nephews.
Graveside services for the family will be held at a later date.
Please follow and like us: