Matthew M. Kimball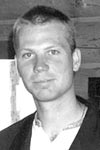 Portland — Matthew M. Kimball, 39, of South Paris died unexpectedly Sept. 26, after a brief battle with cancer. Matt was surrounded by his loving family and friends. Born in Bridgton on Sept. 29, 1971, he was the son of William and Muriel Lapham Kimball. He attended Waterford elementary school and Oxford Hills High School. Matt grew up on the family farm, working in the butcher shop with his brother Wade and father Bill. Matthew learned various trades working with brothers-in-law, Jeff Hadley, Tom LeBlanc and Bernard Wakefield. Some of Matt's fondest memories where spent on the rubbish truck with Dathan, Daniel and Darren. Matt also spent two years living in Crestone, Colo., where he managed a successful lumber yard. Matthew was truly talented with his hands, and at the time of his passing he was the proud owner of a thriving painting business. Matt loved to hunt and fish. He appreciated the simple life. He looked forward to time spent with his wife, Leta and his dogs Zeb and Stella. Matt loved spending time with family and friends. He loved to sit, talk, tell jokes and enjoyed a good old-fashioned meal. He adored his son, Wyatt, and cherished every second they spent together. When he spoke of Wyatt it was obvious he was the light of his life.
Matthew is survived by his wife, Leta of South Paris; his son Wyatt of Belmont, N.H.; his mother, Muriel Kimball of South Paris; brothers, Wade of Waterford, and William, Jr. of Buckfield; sisters, Brenda Gerry of Fryeburg, Linda Twitchell of Newry, Sharon Hadley of Waterford, and Sue LeBlanc of Norway; many nieces, nephews, cousins, aunts and uncles. He was predeceased by his father, Bill.
Funeral services will be held on Friday, Sept. 30 at 11 a.m. at the Waterford Congregational Church, with interment to follow at Riverside Annex Cemetery in South Paris. Family and friends may attend visitation on Thursday evening from 6 to 8 p.m. at Chandler Funeral Homes & Cremation Service, 45 Main St., South Paris. In lieu of flowers donations may be made to a trust for Matthew's son, Wyatt Kimball, c/o Northeast Bank, 235 Main St., South Paris 04281.
Please follow and like us: