Mary C. Keniston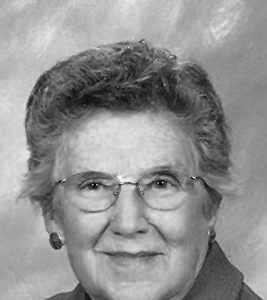 BETHEL — It is with great sadness for the family that Mary C. Rice Keniston, beloved mother, grandmother and lifelong Bethel resident, joined the Lord in Heaven March 11, at home on her 91st birthday.
Mary was born to Millard and Frances Clough in 1921, and raised in Bethel. She attended Bethel schools and graduated from Gould Academy and Auburn Maine School of Commerce. She worked for L.E. Davis Lumber Co. and later Casco Bank and Trust as an administrative assistant for 20 years, before retiring.
Mary received the Henry H. Hastings Award in 1989, by the Bethel Chamber of Commerce. This award is given to a person who has sustained wide interest in serving the community. Mary was an active member of both the First Parish Congregational Church in Bethel and the Albany Church, Bethel Historical Society, where she volunteered a lot of her time, Gould Academy Alumni Association and the Songo Pond Cemetery Association.
Mary's greatest joy was her family. She married Rufus E. Rice in 1941 and raised four children. Her times of greatest enjoyment were spent with her children, grandchildren and great-grandchildren. When she married Earlon "Lefty" Keniston in 1973, she welcomed his daughter and family as her own. She was an excellent cook and her family can attest to her delicious spaghetti and meatballs every Christmas and nothing beat Nannie's mincemeat and strawberry-rhubarb pies!
She loved to watch sports and cheered the Patriots along with her family and friends. She was also quite savvy on the computer. Even in her 90s, she kept in touch on a daily basis with her family in Connecticut, Rhode Island and Maine. She took great pride in being a lifelong resident of Bethel and enjoyed being a part of the community. She was known by most and if you were out and about with her in town, she would stop and talk to almost everyone she met!
Lastly, Mary loved her little home on Vernon Street and with great thanks to her caregivers, Jeanine Buck and Cheryl Burnham, Mary was able to remain in her beloved home until her passing.
Mary is survived by her son, Douglas of Guilford, Conn.; her daughter, Donna Rice-Howe and her son, Donald Rice, both of Waterford; stepdaughter, Llona (Keniston) and her husband, Carl Meaux, of Florida; Nannie will be greatly missed by her nine grandchildren; 20 great-grandchildren; and many nieces and nephews.
Mary was predeceased by Rufus Rice, her first husband, in 1969; Earlon Keniston, her second husband, in 2006; her youngest daughter, Sally Rice Twitchell in 1988; her sisters, Maxine Brown and Ida Bryant; and her brother, Fillmore "Bud" Clough.
A memorial service to celebrate Mary's life will be held on March 31 at 11 a.m. preceded by visiting hours at 10 a.m. at the First Parish Congregational Church in Bethel. Relatives and friends are respectfully invited to attend. Should friends desire, memorial contributions may be made to the Songo Pond Cemetery Association, c/o Norma Salway, Box 245, Albany, Me., in Mary's name. Arrangements are under the direction of Chandler Funeral Homes & Cremation Service, Greenleaf Chapel, 37 Vernon St., Bethel.
Online condolences may be shared with her family at www.chandlerfunerals.com
Please follow and like us: