Marvin M. Merrill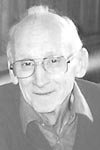 WALLINGFORD, CONN. — Marvin M. Merrill, 90, formerly of South Casco, died Monday, Aug. 15, 2011 at MidState Medical Center in Meriden, Conn.
He was the beloved husband for 63 years of Natalie Thurston Merrill, formerly of Casco.
He was born in Poland, a son of the late Lewis and Alice Spiller Merrill, and was a U.S. Army Air Corps veteran of World War II. He was operator of Merrill's Cash Market in South Casco for a number of years before moving to Connecticut. He had been employed by Pratt and Whitney Aircraft for 32 years in the Experimental Department until his retirement in 1983
Marvin was a devoted grandfather and great-grandfather and an avid Red Sox fan. He also enjoyed telling stories of his childhood, country and western music, practical jokes and playing cribbage with family and friends.
In addition to his wife, Natalie, he is survived by his son, Ted Merrill of Meriden, Conn.; his three grandchildren; his eight great-grandchildren; and his siblings living in Maine, sister Audrey Galarneau, and brothers Donald and Lee. He also leaves behind a number of nieces and nephews.
He was predeceased by a grandson; and his brother, Ronald Merrill.
A memorial service was held on Tuesday, Aug. 23, 2011 at the First United Methodist Church of Meriden, Conn. Interment will be private in Murch Cemetery in South Casco.
In lieu of flowers, gifts in his memory may be sent to the First United Methodist Church of Meriden Member Care.
Please follow and like us: