Margaret Greenleaf Trinward, 87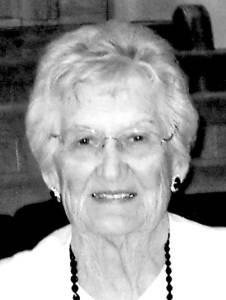 PORTLAND — Margaret "Meg" Greenleaf Trinward, 87, of Waterford, died Friday, Oct. 5, 2012 at Maine Medical Center due to pulmonary complications.
Margaret was born April 6, 1925 in Waterford, to Edith (Millett) and George L. Greenleaf four years after the birth of her one sister, Florence. The family moved to Norway, where Margaret went to school, graduating from Norway High School in 1942. Margaret was active in sports, music and drama. She graduated from Bliss Business College in 1945 and was a commercial business teacher at Bucksport High School for three years. During teaching, she coached basketball, softball and prize speaking. She then moved to Bethel and taught at Telstar High School.
On Aug. 22, 1948, Margaret married John W. Trinward. They were married for 64 loving years. They had four children that they spent many happy hours with skiing at Sunday River, golfing at the Bethel Inn, school and college activities and watching a variety of their sporting events.
Margaret was active in the Oxford County Cancer Unit, West Parish Congregational Church, Sunday school teacher, deacon, member of Norway Country Club right up to this year, charter member of Sunday River Ski Club, the Barton reading club and the Congregational UCC in Waterford. She sank a hole-in-one during her 80th year while living in Florida.
Due to her husband's association with the dental profession, the Shrine and the Bethel Savings Bank committees (now Northeast Bank), the couple did a great deal of traveling around the world. The Trinwards have been living at their current home on Papoose Pond since 1987.
Her greatest cross to bear was the loss of her only daughter, Nancy, at the age of 41 after coping with diabetes from the age of 11. Margaret also lost her sister Florence earlier than ever expected.
Surviving are her husband Jack; her three sons, Steve Trinward of Nashville, Tenn., John Trinward of Waterville and Kevin Trinward of Gray; six grandchildren and two great-grandchildren.
Family and friends are invited to attend funeral services on Sunday, Oct. 14 at 1:30 p.m. at the Congregational UCC at Plummer Hill at Waterford Flats, followed by a gathering at the Wilkins House after the funeral.
In lieu of flowers, donations in Margaret's memory may be made to the Waterford UCC or Stephens Memorial Hospital.
Arrangements by Oxford Hills & Weston Funeral Services, 1037 Main Street, Route 26, Oxford. Online condolences may be expressed to the family at www.oxfordhillsfuneralservices.com
Please follow and like us: