Leroy E. Grant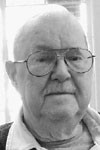 SCARBOROUGH — Leroy E. Grant, 85, of Kittery passed away on Wednesday, Aug. 10, 2011 at the Maine Veterans Home after a period of declining health. He was born in East Machias on July 30, 1926.
He was a disabled veteran of the U. S. Army where he served during the Korean War. After his military service, he was a heavy machine operator for years. He was a member of the Naples Veterans Association and attended the Naples United Methodist Church. He enjoyed being outside working on/around his home, as well as working on his vehicles. He enjoyed camping with his family and meeting and being around people. He knew and was friends with many people in the surrounding area and at Kittery Estates Retirement Community. He was a great Dad and Husband, and will be so missed by everyone that loved him.
He was married to Phyllis Grant for 46 years. She predeceased him in 1997. A companion of several years, Emilie Ann Smith, predeceased him as well. He was also predeceased by a son, Leslie Grant in 1992; a brother, Norman Grant of Bangor; and a sister, Mabel also of Bangor. He is survived by sons, Lee Grant of Spring Hill, Fla., and Lawrence Grant of Conway, N.H.; daughters, Sharon Benwell of Rochester, N.H., Suzette Strout of Naples, Shirley Edwards of Naples, and Sandra Wentworth of Barrington, N.H.; several grandchildren and great-grandchildren.
Services will be held at a later date. Arrangements are under the direc-tion of Chandler Funeral Homes & Cremation Service, 8 Elm Street, Bridgton. Online condolences may be shared with his family at www.chandlerfunerals.com
Please follow and like us: