Irene J. Yoder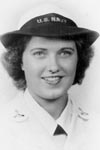 LOVELL — Irene Jewett (Kenerson) Yoder of Lovell and Riverview, Fla. passed away on July 13, 2011 at her much loved home on Kezar Lake.
She was born on Nov. 30, 1922 in Fryeburg, the oldest daughter of Percival and Arolin (Jewett) Kenerson. She was a graduate of Fryeburg Academy. After graduation, Irene volunteered for three years of service in the Navy WAVES (Women Accepted for Volunteer Emergency Service), a World War II division of the United States Navy.
Irene was predeceased by her husband of 40 years, Orville (Slim) Yoder. After their marriage in the Fryeburg First Congregational Church, they were co-owners of the Jockey Cap Store and Cabins with Irene's father, Percival. Spending most of her married life in Towanda, Pa., Irene never lost touch with her family roots in Fryeburg. She remained an active member of the Fryeburg Chapter of DAR, Eastern Star, and the historical societies of Fryeburg and Lovell, She was also a charter member of the Women in Military Service Memorial Foundation and a permanent member of the WAVES National organization. In 1986, Irene made Maine her permanent home once again.
She is survived by her siblings, Robert Kenerson of Fryeburg, Paul Kenerson of Jacksonville, Fla. and Beverly Kenerson Bartlett of Windham; her sons, Kenneth Yoder of Charlotte, N.C. and Bryan Yoder of Greenville, N.C.; her daughter, Zoe Yoder Trautman of Burke, Va.; her four grandchildren; and four great-grandchildren.
A graveside service was held on Wednesday, July 20 at Pine Grove Cemetery in Fryeburg.
In lieu of flowers, memorial contributions may be made in Irene's name to Fryeburg Academy, Alumni and Development Office, 745 Main Street, Fryeburg, ME  04037, Fryeburg Historical Society 511 Main Street, Fryeburg, ME 04037, or the Lovell Historical Society, P.O. Box 166, Lovell, ME 04051.
Arrangements are made with Wood Funeral Home, Fryeburg. On-line condolences may be expressed to the family at www.woodfuneralhome.org
Please follow and like us: