Hayley M. Allen
WINDHAM — Hayley Morgan Allen, 16, of Windham, died on Sunday, Sept. 12, 2010, at a Portland hospital after suffering a massive stroke.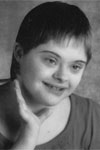 Born in Portland, she was the daughter of Jay T. Allen and Lynda Menezes. Hayley had attended preschool at the Morrison Development Center. She also attended Lake Region schools until her freshman year and established special relationships with both students and staff. Currently, Hayley was a junior at Windham High School.
She loved music, movies, sitting on the swing and swimming. She attended handicapped skiing programs at Sunday River and Shawnee Peak as well as competing in local Special Olympics. She attended Riding To The Top Therapeutic Riding Center. Hayley was a very happy young lady and deeply touched everyone she came in contact with.
She was predeceased by her grandmothers, Eleanor Menezes and Victoria Allen.
Surviving are her mother, Lynda Menezes of Windham; her father and stepmother, Jay Allen and Susan Spencer of South Portland; stepbrother, Nicholas; stepsister, Lauren; her maternal great-grandmother, Marcella Pachucki; maternal grandfather, George Menezes; and her aunts and uncles, including George and Deborah Menezes of Harrison.
Visiting hours were held Wednesday, Sept. 15, 2010, at the Dolby Funeral Chapel, 434 River Road, Windham. A funeral service will be held at 10 a.m. on Thursday at the chapel. Interment will follow in Arlington Cemetery, Windham. Online condolences may be left at www.dolbyfuneralchapels.com
In lieu of flowers, contributions in her memory may be made to: Riding To The Top Therapeutic Riding Center, P.O. Box 1928, Windham, ME 04062 or visit www.ridingtothetop.org
Please follow and like us: