Genevieve H. Haynes
Genevieve Hope Haynes died Sept. 6, 2010, at Bridgton Hospital in Bridgton, Maine, following a brief illness. She was born on January 6,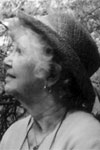 1920, in Hingham, MA, a daughter of Frederick and Alice (Huestis) Reid. Genevieve attended schools in Hopkinton, MA, and was employed as a computer processor at the Natick Army Research Laboratories in Natick, MA, until her retirement. She was an accomplished seamstress, and loved her gardens, books, old movies, antiques, and auctions. She loved to travel through the state of Vermont with her late husband, Richard; play Scrabble; and visit with family members and former schoolmates.
She is predeceased by her first husband, Louis T. Geneseo of Milford, MA; her second husband, John Feeny of Hopkinton, MA; her third husband, Richard Haynes of Hopkinton, MA; her eldest son, CPT Louis J. Geneseo, U.S. Army Special Forces, of Sweden, ME, who was killed in action in Vietnam; and her siblings June, Henry, Roy, David, Frank, and Stephen.
She is survived by her daughter-in-law Barbara Geneseo of Sweden, ME; three children including Jerry Genesio and his wife, Judy of Bridgton, ME; Stephen Geneseo and his wife, Ann of Sweden, ME; and Catherine (Feeny) Piemonte and her husband, Thomas, of Dover, MA; nine grandchildren including Mary Sohl of Sweden, ME; Stephen Geneseo and his partner Sidnei DeGois of Sweden, ME; Jennifer Campbell and her husband Bruce of Denmark, ME; Louis Genesio of Santa Cruz, CA; Lauri Genesio of Santa Fe, NM; Mark Genesio and his wife Karen of S. Portland, ME; Kristy Dixit and her husband Shobhit of Lafayette, LA; William Geneseo and his wife Marina of Harrison, ME; and Ashley Piemonte of Dover, MA; ten great-grandchildren; and one great-great-grandchild.
There will be a private family service and burial will be in the Ridlonville Cemetery in Sweden, ME. In lieu of flowers, donations in her memory may be made to: St. Jude Children's Hospital, 501 St. Jude Place, Memphis, TN 38105
Please follow and like us: