Frances P. Cail
Pearl Cail, of Port Orange, Fla., peacefully passed away on January 15, 2011 at the South East Volusia Hospice Care Center in Edgewater. Born on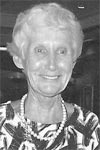 September 5, 1933 in Burlington, Mass., Pearl graduated from Woburn High in 1951 and went on to Chamberlain, graduating in 1953. She married William E. Cail in 1955. After semi-retiring in 1983, she and her husband Bill, moved to Bridgton, Maine, where they owned and operated an RV dealership for a number of years. She also worked for the Lake Region school district for many years, receiving her 15-year pin. Pearl loved camping for many years in the Bridgton and Waterford area. In 1995 Pearl and Bill finally retired and relocated to Port Orange, where they both enjoyed the warmer weather and the many friends that they formed friendships with in their community.
Pearl was always on the go and kept herself very busy; if she wasn't running to the store for something, she was knitting mittens and children's sweaters that she would mail to Maine and Mass., to be distributed to those in need.
She is preceded by her husband Bill. Pearl leaves behind a daughter, Paula Cail of Harrison, Maine; a son, Doug Cail of Port Orange, Fla.; and a grandson, Doug, of Burlington, Vt.
A memorial service was held on Wednesday, Jan. 19th at the Port Orange Hospice Center, followed by a Celebration of Life at the Tanglewood Estate Mobile Park clubhouse. Memorial donations may be made to the Halifax Health-Hospice of Volusia/Flagler, or the American Cancer Society
Please follow and like us: