Evelyn L. Kimball, 85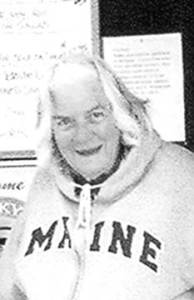 NORWAY — Evelyn L. Kimball, 85, of Bridgton, died Sunday, Nov. 3 at Norway Center for Health and Rehabilitation.
She was born in Otisfield on Feb. 24, 1928, the daughter of Leon L. and Ida May Adams.
Evelyn had been a self-employed housekeeper, working in business offices and homes. She enjoyed dancing and walking. She loved to visit Renys, Subway and Ricky's Diner. She was a big fan of Elvis, his music and his movies.
She is survived by her daughters, Joyce Lee and Terri Nevells; six grandchildren; seven great-grandchildren; and numerous nieces and nephews. She was predeceased by her parents; and three siblings, Fanny Fleck, George Adams and Caroline Graham.
Family and friends may attend visitation on Friday, Nov. 8 from 2 to 4 p.m. and 6 to 8 p.m. at Chandler Funeral Homes & Cremation Service, 8 Elm Street, Bridgton. Online condolences may be shared with her family at www.chandlerfunerals.com
Please follow and like us: