Elizabeth S. (Meserve) Pottle, 84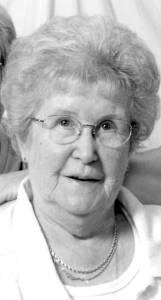 PORTLAND — Elizabeth S. (Meserve) Pottle, 84, of Portland died on Monday, Nov. 11, 2013 at Mercy Hospital.
She was the wife of the late Lennie Pottle, who died Nov. 22, 2000.
Elizabeth was born in Gorham, on Sept. 21, 1929, the daughter of the late Roger and Cynthia (Tripp) Meserve. She attended local area schools and graduated from Gorham High School.
After high school, she worked as a waitress until she married her husband Lennie and had their daughter, Sharon. She then became a seamstress for Healthtex in Portland before retiring due to illness.
She was a member of the Senior Citizens Program in Scarborough and loved to have lunch with the girls. She also enjoyed watching the First Baptist Church on television and loved her cryptograms. For the final 20 years of her husband's life, she took care of him, "his angel," he called her.
She is now in heaven with her husband Lennie; and her grandson, her heart of gold.
She will be missed by her daughter, Sharon M. Pottle of Portland; her grandson of Portland; her two great-grandchildren; and her brother, Robert Meserve of Raymond.
Visitation was held on Tuesday, Nov. 19, 2013 at the First Baptist Church, Canco Road, Portland. A funeral service followed and burial was in Highland Lake Cemetery, Westbrook.
Arrangements are under the care of Advantage Funeral Services, 981 Forest Avenue, Portland. Please visitwww.advantageportlan.com to sign Elizabeth's guestbook and to leave condolences for the family.
In lieu of flowers, donations in her memory may be made to: American Cancer Society, 1 Bowdoin Mill Island, Topsham, ME 04086.
Please follow and like us: