Dorothea E. Washburn, 96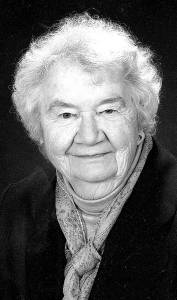 HARRISON — Dorothea E. (Dolly) Washburn, 96, of Harrison, went home to be with the Lord on Tuesday, April 22, 2014 at Stephens Memorial Hospital in Norway.
She was born on March 7, 1918 in Clifton, N.J., the daughter of William and Kathe Dittrich. During the Depression, her family moved to Plainville, Mass., where she graduated from Plainville High School in 1936. After graduation, she worked at Evans Case and Manufacturing and the National Bank in North Attelboro, Mass. Dolly joined the Rebekah Fraternal Organization in 1939 and was a lifelong active member. She transferred her membership to the Woodland Lodge in Harrison in 1982.
Dolly, like many young men and women in the 1940s, followed her patriotic duty and enlisted in the U.S. military. She joined the Navy Waves in May of 1943. She did her "boot camp" at Hunter College in New York. Then, she was sent to Storekeepers School in Georgia. After her training, she returned to New York to serve in the Disbursing Office. Dolly attained the rank of Storekeeper Disbursing First Class. When the sailors came home from the European Theater, Dolly was there to welcome them home and pay them. The war ended and Dolly married her high school sweetheart, Art Washburn Jr., on July 1, 1945. He had just retuned from Germany, where he had been a POW at Stalag Luft #1 Prison Camp. He was a P-47 fighter pilot, who was shot down over enemy territory in 1944.
Dolly raised her family and eventually went to work at the Foxboro Company, in Foxboro, Mass. until her retirement in 1981.
Dolly was a woman of faith. She joined the Plainville Methodist Church in 1932. She was the superintendent of the Sunday School, served as a trustee, and participated in the Couple's Club later named The Fellowship. In 1981, Dolly and Art moved to Harrison and joined the United Parish (UCC) of North Bridgton and Harrison. She was very active in the Ladies Circle, Missions Committee, Crop Walk and raising funds for Habitat for Humanity, The Heifer Project and Amigos. She was a strong believer in raising money for local and international charity work. Dolly was an inspiration to those who knew her. She was known for reaching out and showing kindness and concern for individuals in the local community.
Dolly survived her older brother, Alfred; her younger brother, William P. Dittrich; her three sons, Art III and Richard of Penobscot, and Jon of Harrison; her daughter, Betsy Butterworth of Hanover, Mass.; five grandchildren; two great-grandchildren; and many nieces and nephews and great-nieces and great-nephews.
A memorial service will be held at The United Parish, 77 Main Street, Harrison on Saturday, May 10 at 1 p.m. Burial will be held on Saturday, June 14 at Shepherdsville Cemetery (Route 152) in Plainville, Mass. at 2 p.m.
In lieu of flowers, the family requests that donations may be made to the Amigos Project at The United Parish in Harrison.
Please follow and like us: