Donald L. Allen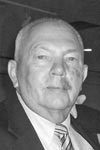 CASCO — Donald L. Allen, 74, of Casco and formerly of Yarmouth, died on Wednesday, Dec. 7, 2011 at his home.
He was the husband of Linda D. (Randall) Allen.
Don was born on Jan. 18, 1937 in Portland, a son of the late Donald G. and Audrey T. (Loyne) Allen. He attended local area schools and graduated from Portland High School, Class of 1955. After high school, he attended Lafayette College in Easton, Pa., graduating in 1959. He later obtained his master's degree in Education from University of Southern Maine.
He served his country in the Army Reserves from 1960 to 1968, eventually obtaining the rank of Captain.
Following graduation, he started his career in corrections as a Cottage parent for the Boys Training Center, South Portland. From there, he worked his way from athletic director to director of Cottage Life, assistant superintendent and then superintendent. He was then selected by Governor James Longley to run the Department of Corrections, where he continued serving as commissioner under Governors Joseph Brennan and John McKernan for the next 17 years, until his retirement in 1995.
Don was a member of the Western Maine Board of Football Officials, South Portland Lions Club and The American Correctional Association. He was a former president of the Sebago Lake Anglers Association and also served on the board of Opportunity Farm for Boys and Girls, as well as many others.
He was an avid catch-and-release fisherman and spent many mornings and evenings on Sebago and Thompson Lakes. Don annually won the friendly fishing competition with his friends Joe and Trevor. He was also a certified high school and college football official for over 25 years. One of his most cherished memories was a Portland High home game in which he officiated with his two brothers, with his father as the timekeeper. He will be remembered for his homemade meatballs, sense of humor and jokes, and his devotion to family and friends. He took great pride in the accomplishments of not only his children but his extended family as well.
Besides his wife, he is survived by his children, James C. Allen of Naples, Jennifer L. Sindelir of Santa Rita, Guam and Scott W. Allen of Bridgton; four grandchildren; two sisters, Eleanor Archambault of Westbrook and Ann Brahms of South Portland; a brother, Dana W. Allen of Portland; as well as several nieces and nephews.
He is predeceased by a brother, David W. Allen.
Relatives and friends are invited to attend a Celebration of Life on Saturday, Dec. 17, 2011 at 1 p.m. at the First Parish Congregational Church, 116 Main Street, Yarmouth.
Arrangements are under the direction of Advantage Funeral & Cremation Services, 981 Forest Avenue, Portland.
In lieu of flowers, donations in his memory can be made to: Opportunity Farm for Boys and Girls, P.O. Box 65, New Gloucester, ME 04260 or Maine Kidney Transplant Program, 19 West Street, Portland, ME 04102.
For further information and to sign Don's guest book, please visit www.advantageportland.com
Please follow and like us: