Carol L. Maczuba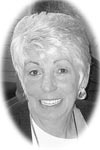 BRIDGTON — Carol L. Maczuba, 70, entered into rest at her home in Bridgton on May 19, 2011. She is survived by her husband Jan Maczuba; two sons, Jan Maczuba, Jr. and his wife Kristy, and Jason Maczuba and his wife Bonnie; a daughter, Meredith Benker and her husband Eric; two grandchildren, Thomas Benker and Charlize Maczuba; a sister; and two brothers; and many nieces and nephews.
She was born in Haverhill, Mass. on Feb. 24, 1941. She was married on April 29, 1963. After living in the New England area they moved to Geneseo, Ill., where she continued to be a dedicated homemaker. While living in Illinois she vacationed in Bridgton. She was employed at Bridgton Hospital for 13 years. She enjoyed working, cooking, and spending time with her family, especially her grandchildren.
She was predeceased by her parents.
Visitation was held on Tuesday, May 24 from 4 to 7 p.m. at Raymond-Wentworth Funeral Home, 8 Elm Street, Bridgton. A private burial will be held at a later date. In lieu of flowers donations may be made to Androscoggin Home Care and Hospice, 15 Strawberry Avenue, Lewiston, ME 04243. Online condolences may be shared with her family at www.chandlerfunerals.com
Please follow and like us: