Top 10 news stories of 2011
By Wayne E. Rivet
Staff Writer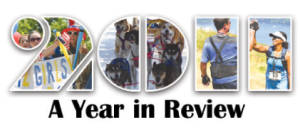 2011 certainly had its share of up and down moments.
Some might say it had more "downs" and they will gladly turn the page in hopes of brighter prospects in 2012.
News making major headlines included:
10. Realizing a dream. It took a lot of hard work, volunteer time and financial help, but projects sitting on a shelf finally were realized by Mother Seton House, Bridgton Recreation Advancement Group (BRAG) and the Rufus Porter Museum.
As the year came to a close, news came that thanks to a matching $65,000 donation by the Kendal C. and Anna Ham Charitable Foundation, Mother Seton House — a shelter for pregnant women, new mothers and infants — would be able to purchase a home. The idea came up as a service project in 2007, and evolved into a bigger project.
BRAG has worked over a decade to develop more athletic field space for local youth. Persistence ultimately paid off as a new, energized group took the baton from the BRAG Founding Fathers and finally moved the project from a blueprint to actual grass, infield playing surface, fencing and dugouts. Although baseball and softball play will likely begin in 2013 at the new sports complex (to allow grass time to mature to be able to withstand use), BRAG officials will hold some type of open house in 2012 to celebrate the arrival of the long-awaited sports fields.
With a growing collection of Rufus Porter items and a major donation of Jonathan Poor artwork, the local museum will be on the move. Museum trustees announced the purchase of a Main Street building, located adjacent to the Bridgton Public Library.
9. Happy birthday! Celebrating birthdays in 2011 were the Bridgton Lions Club, 85 years of community service; Deertrees Theatre, 75 years of quality stage performances; Tom's Homestead Restaurant on North High Street in Bridgton, 30 years of fine dining; and Circle of Tapawingo, 10 years of providing youth camp experience in August to girls who have lost a parent or sibling — free of charge.
8. De-Railed. Bridgton saw Gray lure the Narrow Gauge Museum in September, a crushing setback to a local drive, "Return of the Rails."
7. People on the move. Change was certainly felt as some folks entered retirement in 2011, while others moved on to new or different opportunities. People on the move included: Peter Mortenson resigned as Lake Region Middle School principal, and was replaced by Tonya Arnold; Jeannette Almy retired after 33 years in education, including time as C.A. Snow School principal, she was replaced by Emily Kirkpatrick; Cathy Larson retired after 33 years in the Postal Service; Paul Wescott retired after 34 years at Howell Labs, and was succeeded by David Allen as executive officer; Mike Mendonca resigned as Lovell Rec Director, and was succeeded by Jay Lyons; Elwin Thorpe left as Casco's Code Enforcement Officer after about 30 years; first he was going, then he decided to stay, but in the end Alan Manoian left as Bridgton's economic development director (see related story).
6. Dispatch out. Facing rising taxes, Bridgton residents felt the price was right to contract with Cumberland County for police and emergency dispatch rather than maintaining their own communication center.
5. Protecting the environment. The Lake Region is known for its environmental charm, but sometimes that charm comes at a big price.
SAD 61 had to dip deeper into taxpayers' pockets to pay for PCB removal at a cost close to $1 million. High PCB levels were discovered around exterior windows and doorways prior to construction and renovation at the high school.
Milfoil continues to be a problem near Songo Lock. Lakes Environmental Association tried unsuccessfully to close the Lock area down until milfoil there could be eradicated. LEA then urged boaters to keep traffic there limited until a plan can be developed.
Loon Echo Land Trust hopes to keep the spectacular views from Hacker's Hill in Casco open to the public by purchasing the scenic hillside. Fundraising efforts continue.
4. Tragedies. 2011 had a dark side as a young mother was murdered; a family continued to hold out hope that someone would come forward with information leading them to their son's remains; and two hunters were accidentally shot in separate incidents.
"Missing" signs appeared throughout the Lake Region in April as former LRHS grad Krista Dittmeyer disappeared. Her vehicle and young child were found in the Mt. Cranmore Ski Area in North Conway, N.H. Her body was eventually found in a pond nearby, and three men face charges surrounding her death. A vigil was held in Bridgton, attracting over 1,000 people.
Twelve years have passed since Cecil and Ramona Torres of Denmark last heard from their son, Angel "Tony" Torres. At the age of 21 and a junior at Framingham State College, Tony was last seen in the early morning hours in Biddeford. While the family has accepted the harsh reality that Tony was likely the victim of a homicide, they continue to pray that someone will offer information leading them to his remains.
3. Under construction. Two major construction projects took shape in 2011. Lake Region High School has been reshaped as part of a three-phase project. A new bus garage and educational building is set to open, after being several months behind schedule. A major addition to the former bus garage area will provide more classroom space, while more space has been developed for the school's library and administrative/guidance offices.
Meanwhile, the Naples Causeway underwent a major transformation with the construction of a new boardwalk and bridge. Work continues there into 2012.
2. Ban rejected. A major story that dominated headlines and Letters to the Editor was a citizens' petition to ban "big box" store and fast-food/formula restaurants in Bridgton. The battle ensued after developer Mark Lopez proposed to build a McDonald's restaurant on Portland Road, adjacent to Hancock Lumber. Ultimately, voters rejected the measures in a March vote.
1. Economic highs and lows. The biggest question in 2011 was how one would survive the depressed economy? The recession's effect was felt throughout the Lake Region, marked by layoffs, business closures, many homes foreclosed upon and a taxpayers' revolt.
The hospitality industry was up and down. Some new ventures, such as Campfire Grille, The Galley, and Merced's, succeeded. Others — JD's Firehouse Grille, Redneck Lounge, Trailside and Sydney's — closed. Bridgton Gas and Convenience Store, which had worked closely with the Bridgton Community Center on the Fuel Collaborative Fund, shut down. New arrivals Amato's (inside the Bridgton Big Apple Store), the William Perry Cigar Lounge (the site of the original Bridgton Hospital) and a new Mexican restaurant in Raymond hope the economy picks up steam in 2012.
Taxpayers revolted against rising taxes by rejecting the SAD 61 budget twice before approving the measure in August.
What will 2012 hold? Some retailers reported a "decent" holiday shopping season, feeling many consumers bought into the plea to "Shop Local." That trend, some said, could determine their fate this year.
Please follow and like us: