Player of the Week: Dakota Bush
By Wayne E. Rivet
Staff Writer
As a goalie, one can never get too high or too low.
Because Dakota Bush has such a positive attitude, he became the perfect replacement for last year's all-conference senior goalie Matt Langadas.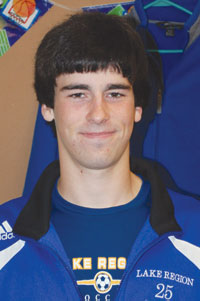 "Dakata is one of the nicest and most positive players I have coached. If you know Dakota, you will know that I am not exaggerating. He is always looking at things in a positive way and is a great role model for his teammates," Lake Region varsity boys' soccer coach Don White said. "He has done an excellent job as our goal keeper this year. He makes one great save after another this season, flying through the air to deflect a shot wide or coming out of the goal just at the right time to stop a break away."
Against Sacopee Valley Saturday night, Dakota made 13 saves to help the Lakers in a come-from-behind 2-2 tie.
"Several of his saves were highlights of the game. He is constantly looking to improve as well. During practice, Dakota is always working hard to improve his technique and his speed. He has improved a tremendous amount over the past 12 months to become one of the best goal keepers in the conference," Coach White said. "Dakota's solid play in net gives us the confidence we need to compete with the teams in our conference."
In recognition of his strong work ethic, determination, commitment and good sportsmanship, Dakota is this week's Boosters and Hancock Lumber "Player of the Week." Each week, a Lake Region athlete is recognized for his/her dedication (does more than what is asked), work ethic, coachability and academic good standing. Recipients receive a specially-designed t-shirt, sponsored by Hancock Lumber, and a $25 gift certificate to Salon at 616 in Casco.
The Bush File
Name: Dakota Bush
Year in School: Junior
Town: Casco
Parent: Jan Boyle
School Activities/Sports: Soccer, indoor track, baseball
Q. Why did you choose soccer? I chose it because it is a sport I like and I am good at. It keeps me in good shape.
Q. What do you hope to accomplish this season? I hope to bring my team to the playoffs, and do whatever I can to make it happen.
Q. What do you enjoy the most? I enjoy making a great save and having the crowd cheer.
Q. What do you like the least? When a goal is scored against me, especially if I could have stopped it.
Q. What makes you successful? Lots of practice and pushing myself to the limit.
Q. What would your dream moment be? The last half in soccer, 1 minute left and someone shoots at me, and I tip it over the net and save the game.
Q. What has soccer taught you? It has taught me to be a leader and to trust my teammates.
Q. Who has inspired you? Matt Langadas inspired me to be as good as him. Last year when I saw Matt play goal, he was amazing. When he graduated, I took his place, so I'm doing my best to be like him.
Please follow and like us: