Player of the Week: Alice Sanborn
By Wayne E. Rivet
Staff Writer
Alice Sanborn is a "spit fire" out on the field.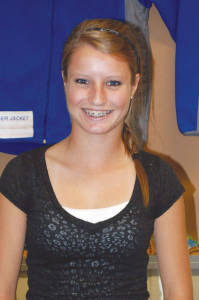 "She stays low and tackles any player and usually comes out with the ball," Lake Region varsity field hockey coach Dagny Leland said. "Alice has a great attitude about this year and has improved immensely with her knowledge of the game as well her attacking skills. We love watching her go in for a tackle and come out with the ball. A great player to have on your forward line."
Alice has been one of the Laker's leading scorers this season, and has been selected as this week's Hancock Lumber Player of the Week. Selection was based on Alice's strong work ethic, determination, commitment and good sportsmanship.
Each week, a Lake Region athlete is recognized for his/her dedication (does more than what is asked), work ethic, coachability and academic good standing. Recipients receive a specially-designed t-shirt, sponsored by Hancock Lumber, and a $25 gift certificate to Salon at 616 in Casco.
The Sanborn File
Name: Alice Sanborn
Year in School: Junior
Town: Naples
Parents: Amy Sanborn-Mondville and Garredd Sanborn
School Activities/Sports: Field hockey, hockey, tennis.
Q. Why did you choose field hockey? It's fair, fun and we're all family.
Q. What do you hope to accomplish this season? To become stronger as a team, and score more goals than last year.
Q. What do you enjoy the most? Everyone gets along, and we're always there for one another.
Q. What do you like the least? When the team is having a bad game day, and we don't play well together.
Q. What makes you successful? When I practice at game speed, and dig deeper.
Q. What would your dream moment be? Making it to States.
Q. What has field hockey taught you? In order to win, we have to work as a unit, not as an individual.
Q. Who has inspired you? Kayla Shane, because she always had dedication to the game. She was a great leader and a very strong player.
Please follow and like us: