Kids repay hospital care with act of kindness
By Wayne E. Rivet
Staff Writer
Each day, Lynne Allen reminds her daughters, Bella and Luci, of three words.
Happy
Smart
Kind
If the girls do something that achieves each word, then it has been a good day.
The two youngsters checked each word off their list last Thursday morning when they arrived bright and early at Bridgton Hospital, carrying two large tote bags full of stuffed animals.
Over the past year, Bella asked family and friends to forgo giving her birthday and Christmas gifts, but instead asked that they give her stuffed animals. With over 40 animals of all sizes, shapes and colors, Bella donated the critters to hospital staff members to be used to help soothe the fears of other kids undergoing treatment.
Bella and Luci still remember vividly another Thursday morning when they were woken and hustled out of a vacation cottage room by their dad, Bruce, who found a bat circling. The bat dropped to the floor, crawled under the girls' bed and into a baseboard heater.
"I freaked out," Lynne said. "I started making calls to find out what to do."
One piece of advice, which the couple followed, proved to be misguided. While it makes sense to open a window or door to give the bat an exit, but if the bat is found in a room with sleeping children, it must be caught and tested for rabies. If the bat is not caught, rabies vaccination is recommended.
"This is so important as rabies can be fatal and can be transmitted through contact with the infected animal (no bite required)," said Lynne, whose family resides in Somerville, Mass. "The reality is that the prevalence of rabies in the bat population is very low, and the likelihood of contact is low, as well. However, because we couldn't test the bat to determine if it did or didn't have rabies, we would be rolling the dice with our girls' lives."
Lynne cried for hours knowing what was ahead for her girls.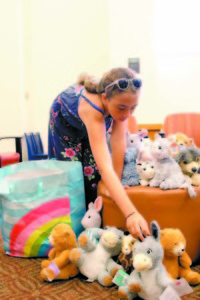 "It is heartbreaking that we had to decide to subject the girls to a series of rabies vaccines as a precaution as the alternative is unthinkable," she said. "It was really scary for the girls, who are terrified of a single shot let alone multiple shots. Pretty sure they cried for the full three hours we were there (Bridgton Hospital) the first time."
What should have been a fun summer and experiencing the joys of Bridgton just as their dad had when he was a little boy, the girls were facing multiple injections.
"As a mother, I cannot even describe the agony of listening to my daughters beg and plead — Bella offering all of her Christmas presents and promising that I would never have to buy her anything ever again in her life — if I would not do this (have vaccinations given) to her. To try to comfort my hysterical daughters as they begged and bargained and then hold them as they received six shots (three then and three more over the next 14 days) was beyond heartbreaking."
Fear and sadness, however, were erased by patience and kindness displayed by Bridgton Hospital staff.
"The staff could not have been kinder. They never lost their patience or rushed the girls. They explained everything to Bella, which is really important to her. Most importantly, they were just kind, good-hearted people," Lynne said. "I cannot say enough good things about the quality of care they gave my girls (and us too). We still talk about how great everyone was at the hospital, even getting the girls popsicles during one visit. The entire episode was terrible, but whenever we talk about it, the one thing we always focus on is the fabulous folks at Bridgton Hospital."
Last week's return to Bridgton Hospital was much different. The girls — who are the third generation to stay at the local lake (Bruce's parents spent their honeymoon here and then made Bridgton a vacation destination, and Bruce proposed to Lynne here) — sported big smiles as a TV crew prepared to record their story. Seeing familiar faces from their brief yet memorable stay at BH, the girls and staff members tightly embraced. Then, Director of Nursing Jill Rollins posed a variety questions about their batty ordeal.
Their story went from heartbreaking to heartwarming. Their unselfish act to help other children through fear and difficult situations lived up to their daily motto:
Be happy — their smiles as they arranged the stuffed animals around a cushioned seat were precious.
Be smart — showing appreciation to those who helped them through a scary time was the right thing to do.
Be kind — Bella's sacrifice to help others was a great example for all.
Please follow and like us: