Hennessy scores FA game winner
By Wayne E. Rivet
Staff Writer
WELLS — When a player has blazing speed, she often tries to jet past defenders for a clean shot on goal.
Sage Hennessy changed up her approach when it mattered most.
The Raider junior zipped past the first line of Wells defenders, then got a step up on another Warrior before unloading a bullet for the game-winning goal with 5:18 left as Fryeburg Academy captured a 1-0 victory last Wednesday.
The win propelled the fifth-seeded Raiders to the Class B West field hockey semi-finals Saturday against top-ranked York.
Unfortunately, the Raiders' magical season came to a halt as the Wildcats (15-1) scored two first half goals and dug in defensively for a 2-0 win. Defense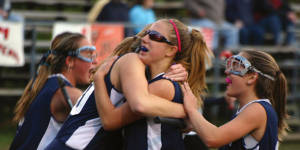 dominated this one as each team managed just four shots. FA junior goalie Brittany Fox made two saves. Fryeburg finished at 12-4.
Spectacular hockey
Having lost to Wells just a few weeks ago on the same field, the Raiders made a statement early — they were faster to the ball, and consistently stopped Warrior passes with good stick work.
They also showed some resilience, having to go to battle without their emotional and physical leader, senior Aslyn Dindorf, who was sidelined due to a concussion.
With Dindorf standing close to FA Coach Dede Frost throughout the quarterfinal game, Raider players hoped to extend the season long enough for one of their captains to return to action.
"Today was a day that speed was pretty apparent. It was so pretty to watch at times, as we were able to breakaway. Obviously, not all of those breakaways ended in goals, but we had several players get some very good shots on goal," Coach Frost said. "When the intensity of the game picks up because you have 2-on-1, there are hush moments as you wait to see who wins, offense or defense. Today, we had the intensity necessary to win a game like this. The kids were pumped the minute they stepped onto the field. They really looked forward to this game."
Coach Frost said "it wasn't that we lost the first time, it was the way we lost" that provided the Raiders that extra push to beat Wells. FA lost when a long hit from outside of the scoring circle struck a Raider defender and went into the cage.
"They needed a chance to prove that they had played a great game and lost on a tough situation that had nothing to do with the level of play," Coach Frost said. "I was so proud that the level of intensity we had in the first half carried on for the entire game. It's hard to do that, especially without a senior captain. It's a tough adjustment to make at this point in the season. Even if you have some great athletes on the bench, if you change up what the kids are used to, it's a tough adjustment."
The Raiders, however, didn't seem to miss a beat.
"It was important to the players that Aslyn get a chance for one more game," Coach Frost said.
Fryeburg had several good scoring runs in the first half, but came up short as Wells packed the defensive end. As the clock ticked under 6 minutes left in regulation, Hennessy stopped a Wells pass near midfield and started a sprint toward the Warrior goal. With one defender left, Hennessy remembered some advice her coach had given her and put to good use a shot she had worked on recently in practice.
From the right side, Hennessy saw she had a good angle and belted a line drive that sailed past Wells goalie Amber Rigdon and landed halfway up the goal's netting.
"It's been a running joke between Sage and I that just once when she was open to just whale the ball," Coach Frost said. "Get the ball in close and just drive it. When I saw her bring her stick back, I was so proud of her for changing her style."
She did just that.
"I just wanted to hit the ball hard enough for it to go in," Hennessy said. "We stayed aggressive and didn't sit back and let them get back into the game."
Up 1-0, the Raiders expected the desperate Warriors to raise their level of play. And, they did. Wells nearly scored the equalizer when a shot somehow sailed past a couple of Raider defenders, and was deflected at the last second by FA goalie Brittany Fox.
"That save was amazing, especially on a day that there wasn't a lot of shots on goal," Coach Frost said. "You don't have a chance to prepare for a shot like that, it was all instincts. To get to the ball headed for the corner was just unbelievable."
Fox said she saw the drive all the way, "but it vanished a few times because of people standing in the way."
"I just tried to keep track of where the ball was. I hoped no one would touch it," she said. "I was pretty relieved to see the ball deflect away from the goal. I've been trying to focus more on what I need to do. There's a lot of pressure. I try to stay hyped so my team doesn't get down."
Fox, who had seven saves on the day, said the defense played better than their previous visit.
"The last time we were here, we couldn't stop the ball. Today, we watched where the ball was going and made stops," she said.
Fryeburg nearly scored twice on shots by Hennessy and Ellen Bacchiocchi, who tenaciously tried to push the ball past a sprawled Rigdon, only to see the ball hit the post and eventually roll out of bounds.
"It was an intense, pretty field hockey game," Coach Frost said. "Both teams played very well, played very hard. I enjoyed coaching this game. I wasn't nervous because of the way the game was being played."
Raider seniors included: Bailey Frost, Ashley Watkins, Aslyn Dindorf, Katie Heggie and Charlotte Lewis.
Please follow and like us: