Hancock Lumber Player of the Week: Mike Mageles
By Wayne E. Rivet
Staff Writer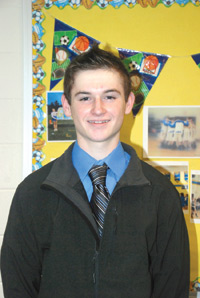 When a team struggles and losses pile up, it is very easy for an athlete to become frustrated, unwilling to work as hard and develop a bad attitude.
Mike Mageles has been just the opposite.
Despite seeing his Lake Region boys' basketball team drop four straight games, Mageles continues to put forth a great effort, which Coach JP Yorkey likes to see.
"Mike has displayed an exemplary unselfish and team-centered attitude, particularly over the last three weeks," Coach Yorkey said. "I could not be more proud of him than I am right now. His attitude is impressive."
A three-sport athlete and good student, Mike "represents his school and himself well," Coach Yorkey added.
In recognition of his strong work ethic, determination, commitment and good sportsmanship, Mike is this week's Boosters and Hancock Lumber "Player of the Week." Each week, a Lake Region athlete is recognized for his/her dedication (does more than what is asked), work ethic, coachability and academic good standing. Recipients receive a specially-designed t-shirt, sponsored by Hancock Lumber.
The Mageles File
Name: Mike Mageles
Year in School: Junior
Town: Bridgton
Parents: Mark and Chris Mageles
School Activities/Sports: Basketball
Q. Why did you choose basketball? MM. I never really chose the sport. I've just always played. My mom played in college, so I have it in my blood.
Q. What do you hope to accomplish this season? MM. I hope that my team comes together and fights to earn a playoff spot.
Q. What do you enjoy the most? MM. I enjoy shooting and the atmosphere that surrounds high school basketball.
Q. What do you like the least? MM. The pressure for your team to do well because you want to represent your community right.
Q. What makes you successful? MM. The fact that I don't get mad at decisions. I stay positive and if I play my hardest and play smart, I'll succeed in the end.
Q. What would your dream moment be? MM. Getting the recognition that my teammates and I deserve for working hard and striving to get better.
Q. What has basketball taught you? MM. This sport has taught me to deal with adversity. In soccer and baseball, I don't face much adversity individually. In basketball, you have to strive to be the best everyday.
Q. Who has inspired you? MM. My mom is my inspiration. She always wants the best for me and is always willing to help me get better. I love you, Mom!
Please follow and like us: