Fire destroys Hogfat Hill home in Sebago
By Allen Crabtree
Special to The News
SEBAGO — Firefighters from seven neighboring towns fought hard to save a house on Hogfat Hill Road in Sebago, but their efforts were for naught.
Unfortunately, the house was fully-involved in flames when the first firefighters arrived on the scene Monday afternoon, and there was little that could be done despite best efforts to save it.
Firefighters were able to stop the rapidly-spreading fire and save the adjacent barn, and prevented the fire from spreading into the woods behind the house, but the house itself was a total loss.
A passerby called the Standish Fire Department 9-1-1 dispatcher at 2:25 p.m. to report the fire. The first two Sebago firefighters were on the scene a few minutes later. Firefighter/EMS Deputy Chief Jason Schoolcraft and Firefighter Christopher Harrington found flames coming from the front windows, back porch and roof when they arrived, and within five minutes, the entire house was fully-engulfed. They immediately had a third-alarm call toned out.
Fire departments from Bridgton, Standish, Baldwin, Casco, Naples, Hiram and Sebago sent fire engines, water tankers, two aerial ladders and an emergency medical unit. About 50 firefighters and EMTs responded to the call.
A water shuttle with tanker trucks from several departments was established to ferry water to the fire scene from nearby hydrants.
The house, now vacant, was the former home of the Yankee Air Boat Company. The adjacent barn was the workshop, where airboats were made for several years. The house had been rented for a period, but had been vacant for about a month. No one was living at the house at the time of the fire. No one was injured in fighting it.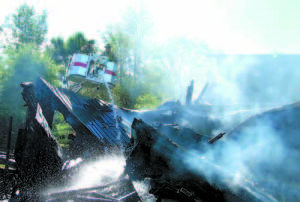 The Fire Marshall's office is investigating the cause of the fire.
Please follow and like us: