A final fling of the summer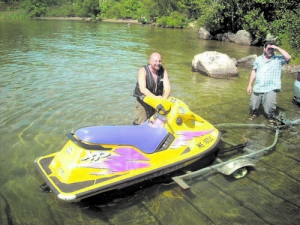 By Dawn De Busk
Staff Writer
RAYMOND — For bass fisherman Clayton Grimm, the early bird gets a parking spot at the Raymond Public Boat Launch.
Grimm had launched his Skeeter around 6:30 a.m. The Mechanics Falls resident said it is much easier getting the boat into the water in the morning than it is pulling it out later in the day — when the marine vessel traffic picks up at this local launch point.
"After Labor Day, it's great, less boating traffic," said Grimm, who landed a few four-pound bass in celebration of the legal holiday. (Actually, he said he was staying sharp for an upcoming bass tournament.)
The Raymond-based public dock that serves as access to Big Sebago Lake was one of many around the region that saw a boost in boating activity during this Labor Day weekend. Around noon on Monday, the sun beat out the clouds, and the parking lot was full of empty boat trailers while the owners spent time on the lake. Meanwhile, about a half-dozen people basked in the sunshine at the free public beach.
While their daughters shared bread crumbs with some shoreline ducks, Kim and Kevin Joler reclined on a towel in the sand and recalled the summer's weather and activities.
"I thought we had a fabulous summer. I am a teacher; and the weather has been nice since school got out," Kim said.
"We went camping at Sebago. We went hiking with the kids at Bradbury Mountain and Wolfe's Neck a few times, and we did day trips to Crescent Beach," she said.
The September stop at Raymond beach is not a family tradition.
"We were just driving around and decided to stop. It's beautiful," Kim said.
However, the family does observe an annual tradition of camping at Witches' Cove in Sebago State Campground.
"They love camping," Kevin said, of his young daughters.
"We are basic campers. We set up a tent, or we go with a group of friends and have multiple camp sites," he said.
In August, the sisters split their recreational time between the playground equipment, the swimming area, and the family campsite.
"Having the fire every night, eating s'mores and popcorn…It's a good deal," Kim reminisced.
Kim, an Auburn resident who works as an elementary school teacher, said the weather favored more sunny days than rainy ones — especially once her summer vacation began.
"The rain in June — it put a damper on the teacher planned activities," she said.
"But, from July on, the weather was fabulous. You couldn't ask for better days," she said.
Those consecutive sunny days (during which time the Joler family played outdoors) were not exaggerated memories of a great summer.
According to the National Weather Service (NWS) as of Aug. 17, there has been virtually no rain.
"We have had a long stretch of really nice weather," NWS Meteorologist Steve Capriola said.
"The departure from normal is that it [(temperature) has been 2.8 degrees higher for the first 26 days of August," he said.
Strangely enough — despite the sprawl of sunny days, the rainfall for August was double that month's average measurable precipitation.
"It is above normal. The rainfall for this August is 6.13 inches. That is 3.8 inches above normal," Capriola said.
The averages for rainfall totals, high temperatures and low temperatures are based on 30 years of recorded data for each month, Capriola said. Also, the NWS considers June, July and August as the summer months, he said.
The normal rainfall for the month of August is 3.14 inches, and typically that occurs during the last week of the month, he said.
"A lot of rain fell in two events. It rained 2.50 inches on Aug. 10, and again on Aug. 16 and 17, and that rainfall totaled 2.44 inches," he said.
Most of August's rain "fell in three days," he said.
By comparison, the rainfall for July was 4.3 inches. That monthly total was three-quarters inch above the normal precipitation amount.
In July 2012, the recorded weather did not stray far from the average. The average daily temperature was 71.3 degrees — two degrees above normal. The average high was 81.1 degrees, which is slightly more than two degrees above the normal. Even July's average low temperature of 61.5 ranked two degrees more than normal.
In June — in general, the weather proved to be a bit soggy, with precipitation measuring twice that of the average for the month, Capriola said.
For the month of June, the rainfall totaled 8.63 inches, which is 4.84 inches more than June's average rainfall amount, he said.
According to Grimm, who landed a few bass this Labor Day, the rainfall for the month of June created higher water levels, swifter currents, and changes in the behavior of the fish.
"It did affect my fishing. I had to fish in a different way, and I had to fish in different places," Grimm said.
But, a rainy day doesn't sidetrack his fishing plans.
"I go rain or shine," Grimm said, "and, I always have fun."
"I would rather go when it's raining. If the sun is out, there are too many pleasure boats," he said.
In addition to the higher than normal rainfall, June stood out with a highest temperature (93 degrees on June 20) that beat both July and August, according to NWS statistics.
The high temperature for July never surpassed 90 degrees, which was the recorded on both July 13 and 14, according to Capriola.
Ninety degrees was also the warmest temperature, which occurred on Aug. 3.
On the other side of the mercury, the thermometer registered a low of 56 degrees on Aug. 20 and Aug. 22.
What causes the evening temperature to drop rapidly after a warm summer day?
According to Capriola, "If it is a warm day, and it cools down quickly, it could be that a sea breeze picked up. Also, if the dew point or humidity is low, the temperatures will drop faster."
A very dry air mass would create the conditions that cause a person to pull on a fleece or sweatshirt at sunset, he said.
The last explanation involves human perception.
"It might seem like a really warm day, while the sun is out. But, maybe the temperature is only in the 70s. So, it is not that warm to begin with," he said.
Please follow and like us: