Uppermost House: Toilet gig, totally rocked it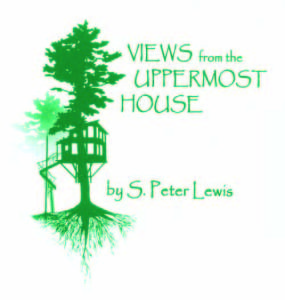 By S. Peter Lewis
BN Columnist
A couple of columns back, I left you all awkwardly standing by while I paused in my efforts to fix a leaky toilet. I fear some of you have been shifting from one foot to the other for a month now, and I'm sorry if I caused you any undue pressure. I hope, as I suggested, that you found relief through the police blotter.
In the interim, and as a diversion from a job I didn't really want to do, I replaced several burned-out floodlights, caulked the bathtub, and finished a jigsaw puzzle with my wife. These were mostly dry, pleasant jobs that required little crawling and no sophisticated tools, such as a mop.
But leaks don't fix themselves, so I finally went to the bathroom one recent afternoon (much to the relief of my wife, who was tired of my holding pattern).
One of the reasons I put jobs like this off is that I simply don't know what I'm doing. Ignorance and ineptitude are great motivators for not doing something, and let's face it, there are certain jobs that you probably don't want to get good at — being known as the "go-to" guy for fixing toilets isn't necessarily a happy thing (unless you get a union job with good benefits).
Nonetheless, after lunch I found myself on my knees in the upstairs water closet with my tools assembled, the directions for my Fluidmaster Universal Toilet Fill Valve & Flapper, Model #402LGR spread out before me, and my headlamp switched on.
According to the triple-fold-out directions (like one of those big maps they insert into National Geographic), this entire operation would be accomplished in just nine easy steps, which started conveniently with "Turn off water supply" and ended conveniently with "Turn on water supply." You've got to love tautological plumbing. It reminded me of the dialogue from that old Burt and I skit at a train station ticket window.
Burt: "I'd like a round-trip ticket, please."
Ticket agent: "Where to?"
Burt: "Right back here, of course."
I'll spare you the drippy details, but suffice it to say that I totally rocked the toilet gig (a sentence I never thought I'd ever type). Took everything apart and put it all back together in under an hour. Spilled nary a drop. And had two parts left over, which I stashed in the medicine cabinet, just in case.
As it turned out, the primary reason why things went so swimmingly was that I had help in the form of a clever, mechanically-minded, 88-year-old man (my dad) who stood in the doorway and offered sage problem-solving advice that dated all the way back to the Roosevelt administration. And he delivered the wisdom spontaneously and emphatically from above me and slightly to my right, leaning his aged frame against the doorway with his arms folded, for balance (and use your imagination, the wisdom was slightly more colorful than this):
"Gee wiz. I think those directions could be a little simpler."
"Gosh, I wonder if you really need that cute little doohickey."
I was pretty proud of myself for a week or so, then my wife mentioned to me that she had to put a towel down in the upstairs bathroom and stomp on it because the carpet near the toilet was a little soupy.
This house of ours is almost 200 years old, and my guess is that the only toilet that ever worked flawlessly was the first one. Not much can go wrong with a clear piece of pine with a generous oval hole cut in it. It might be cold, but it won't leak.
Please follow and like us: