Uppermost House: Girl with a grey sweatshirt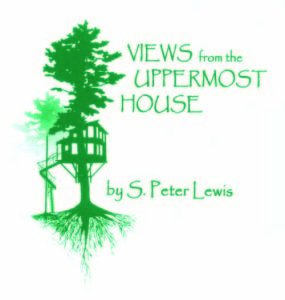 By S. Peter Lewis
BN Columnist
On a recent autumn day, as I worked to get the last few outdoor chores done before we were plunged into another Maine winter, I was scraping old dry caulk from the window frame in the door that leads to the back yard when my 23-year-old daughter, Amanda, darted past me on some errand.
My daughter is a living stream of consciousness who never seems to stop moving or thinking or being clever; she is an energized bit of cheery momentum, like a butterfly, but with a better sense of direction.
Seeing the open window as she whisked by, she seized the opportunity to be spontaneously entertaining, stepped behind the pane-less frame, blurted out, "Cool, it's like a portrait," turned toward me and struck a deep and thoughtful pose. I had an el-cheapo point-and-shoot camera in the next room, so I said, "Don't move," dropped my putty knife, ran over and grabbed the camera, ran back to Amanda (turning the camera on as I dodged cats), stopped, composed both myself and the image, took the shot, and that was it. Amanda disappeared in a puff of laughter and enthusiasm; I shoved the camera in my back pocket, reached down and took up my putty knife, and began scraping anew. The whole drama took about 30 seconds, and I forgot all about the photo until the next day.
When I saw the image, I was astonished. The glossy black frame of the door ajar at just the perfect angle, here gleaming with silver highlights, there black as night. The golden-orange edge of the raw wood on the inside where the old glass used to be. My daughter from the waist up suddenly filling the empty window, confident, mature and a bit mysterious. And all of these serendipitous components bathed in a perfect autumn light filtering down through the October maples.
"Shades of a work by Jan Van Eyck," a friend remarked upon seeing it, conjuring up the penetrating shadow-and-light portraits of the great Netherlandish painter of the 15th century; although my first thought came from a bit further east and two centuries later, in the work of the Dutch master Johannes Vermeer, who, had he wrought this work in pigments instead of pixels, would have surely titled it, "Girl with a grey sweatshirt."
Late that night, lying in my bed and staring up at my ceiling, I began thinking about my two children. Astonished as I was by Amanda's quick portrait, I was even more astonished by the kind of people my grown son and daughter had become. Gracious, intelligent, cheerful, optimistic, kind, funny, confident, faithful…and so the list of superlatives went on. Not perfect, of course, but delightful and admirable, and my two closest friends.
How did I manage to fledge such wondrous creatures? I wondered. Then, realizing that I was holding my wife's hand, and that the past 31 years of parenthood had certainly been a team effort, I quickly corrected myself. I did not do this alone, I whispered into the quiet darkness. And lying there amazed and thankful, the continuing presence of the grace of God washed over me, and I corrected myself again. We did not do this alone.
Please follow and like us: