The Jump…for the ages? Kate Hall sets national long jump record
By Wayne E. Rivet
Staff Writer
All season, Kate Hall was the one raising the bar in the long jump.
Then on Sunday on the biggest high school track stage, she found herself in an unfamiliar position.
Kate needed to deliver her best jump ever to win the national title.
Courtney Corrin, a junior from California, had taken the lead at the New Balance Nationals held in Greensboro, N.C. with a jump of 21-feet, 5-inches.
Kate's previous best was 20-feet, 11¼-inches, which won her the national high school indoor title in March. Her best outdoor distance was 20-11, which she jumped at the New England Championships held at Thornton Academy in Saco the previous weekend.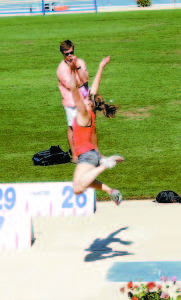 One jump — to win it all.
"I don't know how she was able to put together that kind of jump with that kind of pressure," said Kate's dad, Eric, who was in the stands a short distance from the long jump pit.
Kate has faced a lot of challenges in her young track & field career, and the one constant that has enabled her to rise to the top of the sport is her trust in herself.
"I just reminded myself what I was there to do and that this was my last chance to do it," Kate said. "I took a couple deep breaths and decided that I just needed to trust my steps; I shouldn't overthink it. And then I just went for it."
Moments earlier, like many inside the stadium, Kate was in awe of Corrin's jump.
"After Courtney Corrin jumped 21-5, I got so fired up for my last jump. I looked calm on the outside, but on the inside I was freaking out," she said. "I knew that if I was going to win, it had to be a perfect jump. My approach felt spot on and when I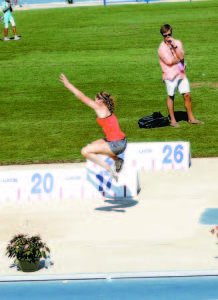 landed, I knew it was huge. Before they even measured, I heard my family going crazy in the stands, so I knew must have been REALLY great."
First, a judge raised a flag signaling that there was no fouls on the jump.
Then, there was the wait as officials measured Kate's effort.
"I was trying to see the measurement, but I wasn't absolutely sure what it was so I was trying not to get my hopes up too high," she said. "Everyone was just standing there in silence, waiting to see what the distance showed on the board, and finally it showed and it was the most exciting and emotional moment of my life."
22 feet, 5 inches.
"I am still in shock about the jump. I honestly could not even process what my eyes were looking at; it was just so surreal," Kate said. "As all of the jumpers hugged me, I was in tears. I didn't know what to do with myself. Right after,
they announced it was a national record and I began crying even more. I was completely overjoyed and kept wondering if it was literally a dream."
Kate's jump broke a 39-year-old national record of 22-feet 3-inches set by Kate McMillan of Raeford, N.C. in 1976. McMillan went on to win a silver medal at the 1976 Olympics.
Kate's jump also topped the U.S. junior record (under age 20) of 22-feet 3¾-inches set by Carol Lewis in 1982. Lewis, the sister of Olympic speedster Carl Lewis, went on to win the bronze medal in the 1983 World Championships.
Since her record-setting jump, Kate has received congratulations from other former Olympians, Eric Hall said.
Kate also brought home a third place finish in the 100 meters, posting a time of 11.37 seconds, which is the fastest time posted ever by a Maine woman. It was just off the U.S. national championships qualifying standard (0.04).
Seeing Kate on the podium as a national champion was also a very proud moment for her personal trainer, Chris Pribish of South Portland, who owns The Medically Oriented Gym.
"Kate's achievements are unreal. She is the most driven and dedicated individual I've had the pleasure to work with," Pribish said. "It's hard to believe what she has overcome and achieved at such a young age. She is such a special individual and I am so lucky to have had the last seven years working with her."
While Kate closed out an incredible high school track journey with a long list of accolades one can only marvel at, but her impact on the sport and fellow athletes is even more noteworthy.
Freshmen Danica and Hannah Chadwick said Kate's influence and example changed them as people and athletes.
"We were impressed with Kate's great dedication and devotion to track and field. We were also impressed with how well she worked with us, and how she was willing to work with us even though we were freshmen. She still devoted some of her time to come over to help and that meant a lot to the both of us," the sisters said. "We learned many things from Kate. We learned how to show good sportsmanship (for example, to congratulate everyone whether you were the winner or the loser). We learned a lot of great techniques from her. She was always willing to show us the techniques and to work out with us and give us tips along the way."
While some top athletes' sole focus is their next competitive moment, Kate took the time to help her teammates.
"She helped tremendously when competing, whether it would be holding our blocks or helping with our marks for jumping," the Chadwicks said. "She would give us good pointers on jumping and running — things we will always remember. During practice, she would also tell us about some stretches that would help to improve our muscles and she would answer any questions that we had no matter what she was doing. We will miss Kate, but are grateful that we were able to meet, train and compete with her."
While the "shock" of her accomplishment over the weekend has yet to fully wear off, Kate had a chance to reflect on her high school career and look forward to a very bright future.
"Looking back on my entire high school career, I will remember many things that got me to where I am today. First, my goals that I set way back when I was a freshman. Wanting to qualify for the Olympic trials was my biggest. From there, I will always remember how motivated I was to do everything I could to achieve my goals from year to year, and eventually my biggest. It really is crazy how all of the work that I have put in since a freshman has paid off, even when things seemed tough and impossible," she said. "Lastly, I will ALWAYS remember the support that everyone has given me from not only this community, but from all over Maine, New England and the nation. It has pushed me and motivated me every day to become the very best I can be even when I was doubted. I want to thank everyone so incredibly much for everything you have done to help get me where I am today."
Today, she is a national champion.
To watch Kate's record-setting jump, go to the following:
http://www.nbnationalsout.com/eprofile.php?event_id=3689&do=videos&video_id=149820
Please follow and like us: