Sweet payoffs for public on Maine Maple weekend
By Dawn De Busk
Staff Writer
NORTH BALDWIN — It would sweeten the day of local maple syrup producer Ben McKenney if a visit to area maple farms changed someone's diet.
"The goal is to educate people about maple syrup. Buying some syrup products is great. What would be better is a shift in the cultural mindset of using processed sugar," said McKinney, who operates Grandpa Joe's Sugar House in North Baldwin.
"My goal is to get people to use maple syrup as a sweetener or a topping instead of processed sugar," he said.
Raw maple syrup is fat-free, he said. It is a tasty source of manganese and zinc. Maple syrup is a natural remedy for managing several types of diabetes, he said.
Additionally, maple syrup contains more than 50 antioxidants that stop inflammation, and protect the human body from free radicals which can cause cancer and other diseases. Recent scientific studies indicate that consuming natural maple syrup can also stem Alzheimer's disease.
For young children, it tastes delicious — making its medicinal benefits fall on deaf ears and eager taste buds.
Free samples of maple products are one of the sweet payoffs for people participating in 2016 Maine Maple Sunday, which will be going on all weekend at various sites.
Easter Sunday and Maine Maple Sunday fall on the same date this year.
Among the maple producers that will be closed on Easter Sunday are: Sweet Williams' in Casco and PieTree Orchard in Sweden. Those two maple farms will hold a variety of events on Saturday only. Sweet Williams' will be closed to the public on Easter Sunday, while PieTree will offer farm tours at 10 a.m. and 2 p.m.
In reality, for the vast majority of farms in Cumberland and Oxford counties, the sugar shacks will be open to the public on Easter Sunday, while traditional Maple Sunday offerings like educational tours and tastings will take place both days.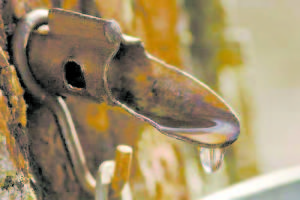 "Granted it is Easter. There are people who won't come out," McKenney said.
"Maple Sunday is a family event. It's meant to be family oriented. We go to church. But, because of our lifestyle, this month we are farmers," he said.
On Sunday only, Grandpa Joe's Sugar House will hold its 14th annual Maple Cooking Contest with judging taking place at 1 p.m. The entries range from slow-cooker recipes to cookies and pastries, he said.
He predicted that with temperatures in the 40s this weekend, a lot of families are likely to visit sugar shacks after church services.
"In 2011, it was a nice weekend; we had 1,100 people in two days. I had to buy two boxes of plastic spoons," he said.
One objective of the annual agricultural event is to educate people about the syrup-making process, one that varies from farmer to farmer, McKinney said.
"There are a lot of people who still don't know what Maple Sunday is," he said.
"The goal of the maple industry is to get people to visit local farms and learn about the entire process. We live in North Baldwin, surrounded by a dozen sugar houses in a 15-mile radius. I would encourage people to visit not just one, but as many as possible," McKinney said.
"The Maine Maple Sunday map is great. It is broken down by county. We want people to use it as a tool," he said.
People interested in planning out a number of stops during Maine Maple Sunday might want to check out the webpage, http://mainemapleproducers.com/maine-maple-sunday.map.html. The map is also a valuable tool in learning what farms offer to the public on Saturday and Sunday.
Please follow and like us: