Springs and summers are not just enjoyed, but worshipped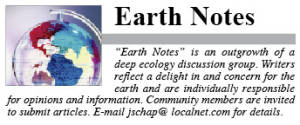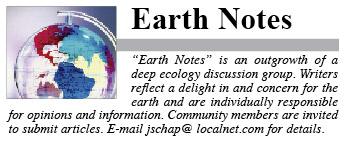 Since moving into our home here in the country in Bridgton several years ago, we have enjoyed the seasonal changes throughout the year. The spring change over April and May is nothing less than glorious. From our second floor front windows, the view across the field and up to the hilltop is an ever-changing panorama of color from the many species and ages of wild grasses, bushes and trees.
One day late in May, it all comes together, and I sense it as I step out the door. Our backyard contains two very old apple trees and one equally old pear tree, plus many lilac bushes and a maple tree. I am certainly no agronomist, or any kind of agriculturist, or even a gardener. I tend to my grass cutting and trimming around our farmhouse with attached barn. The bushes and trees planted by my predecessors are roughly groomed when absolutely necessary. Otherwise they are just observed, especially during the spring growing season. From my point of view, I was just lucky to end up in this 100-year-old farmhouse on a few acres with great views from the front and back, with something less than 50 windows.
On the more practical side, spring is about a warmer house, no more snow (hopefully) and changing from winter to lighter clothes, but not our summer wear. We feel good about being outside, cooking on the grill, and checking on our Red Sox (some of us fans just never give up). The lawnmower is used frequently, recently given a big boost from the rain that came with the long-extended electrical storm from 2 to 5 a.m. Memorial Day night. The constant lightning moved across the southwestern sky through our bedroom windows, just showering us with blinding white. I have never experienced such a thunderstorm, ever. I survived, but spent the day in a fog. I retired early, hopefully to feel rested on Wednesday morning.
I tend to dwell on these current spring happenings, not to rush summer just yet. It goes by too quickly once July 4th is upon us. We usually, but not always, have a dry July and August. "Where did summer go?" is the much-asked question come September. In the southern states it evens stretches into October. In October we start preparing for winter. Our springs and summers are not just enjoyed, but worshipped. People from away find our cooler summers a delight, although not at the seashore, with our great tree coverage in our more than ample forests. The cool air at night condenses the moisture in the humid hot air, and then the cooling effect helps dissipates the heat. If only it would last longer.
As I write here at my desk, I view the bridle wreath just a few feet away from my window. I'm already planning to trim it heavily in the fall, dreading the dead look through the fall and winter. Every so often around the house, lots of cutting and trimming is absolutely essential, as "everything grows in Maine." I do not want to move back to flatland to a small house in a full neighborhood with cars, cars, cars (I am so sick of cars!). Sooner rather than later, all the views will be just a memory. Best to now just enjoy it.
— Ronald J. Fryer, May 31, 2012
Please follow and like us: