Player of the Week: Kristina Morton
By Wayne E. Rivet
Staff Writer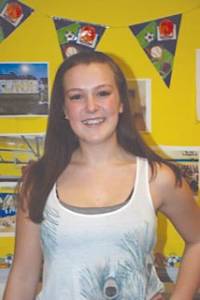 Kristina Morton is the kind of athlete a coach looks forward to working with.
"Kristina is a delight to have on the team. She always has a positive attitude and a smile on her face," Lake Region varsity indoor track Coach Mark Snow said. "She encourages her teammates to do their very best."
Kristina enjoyed success in her first season of indoor track and field. She tried several events, and "showed great range as one of our top throwers and 800 meter runners," Coach Snow said.
"I expect her to be a leader of the team next season," he added.
In recognition of her strong work ethic, determination, commitment and good sportsmanship, Kristina is this week's Boosters and Hancock Lumber "Player of the Week." Each week, a Lake Region athlete is recognized for his/her dedication (does more than what is asked), work ethic, coachability and academic good standing. Recipients receive a specially-designed t-shirt, sponsored by Hancock Lumber.
The Morton File
Name: Kristina Morton
Year in School: Junior
Town: Casco
Parents: Jill and Larry Morton
School Activities/Sports: Varsity field hockey, indoor track and softball, Varsity Club
Q. Why did you choose indoor track? KM. to stay in shape and to try something new.
Q. What did you hope to accomplish this season? KM. Since the season is almost over, I would like to get a personal record in the shot put.
Q. What do you enjoy the most? KM. Whenever I set a personal record.
Q. What do you like the least? KM. After coming back from a weekend, we usually have a hard practice on Monday, and I don't usually like them.
Q. What makes you successful? KM. Pushing through the pain. I know it's only temporary.
Q. What would your dream moment be? KM. To place first in one of my events.
Q. What has indoor track taught you? KM. To never give up, even when it starts to hurt.
Q. Who has inspired you? KM. Teammates Maude Meeker and Julia Carlson have inspired me to try harder and to push myself. Also, my parents.
Please follow and like us: