Player of the Week: Jeremy McClure
By Wayne E. Rivet
Staff Writer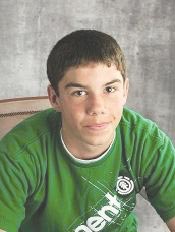 Jeremy McClure is extremely dedicated to indoor track.
"Jeremy has attended more practices then anyone (thanks to some optional Saturday workouts). He is driven to improve at every practice," Lake Region varsity indoor track Coach Mark Snow said. "He pushes his teammates to be the best they can be."
In recognition of his strong work ethic, determination, commitment and good sportsmanship, Jeremy is this week's Boosters and Hancock Lumber "Player of the Week." Each week, a Lake Region athlete is recognized for his/her dedication (does more than what is asked), work ethic, coachability and academic good standing. Recipients receive a specially-designed t-shirt, sponsored by Hancock Lumber.
The McClure File
Name: Jeremy McClure
Year in school: Junior
Town: Naples
School activities/sports: Indoor track, outdoor track and football
Q. Why did you choose indoor track? JM. I love to run, and I love the competition.
Q. What do you hope to accomplish this season? JM. To improve my times every week.
Q. What do you enjoy the most? JM. Hanging out with friends, competing in competitive sports and snowmobiling.
Q. What do you like the least? JM. Losing.
Q. What makes you successful? JM. Hard training and doing well in school.
Q. What would your dream moment be? JM. To qualify for Nationals.
Q. What has indoor track taught you? JM. Hard work and dedication produces positive results.
Q. Who has inspired you? JM. Coaches and teammates, they push me to train harder.
Please follow and like us: