Open 'Store" to more shoppers?
By Wayne E. Rivet
Staff Writer
A sign outside "The Store" says, "Your unwanted items are valuable to someone."
The store at Bridgton's Transfer Station brings in about $25,000 a year, and Selectman Robert McHatton wonders if that figure could climb if more out-of-towners were to shop there.
Currently, a sign is posted at the facility's entrance that restricts access to the station only to Bridgton residents who display a sticker on their vehicles.
McHatton would like to see that sign removed, allowing "outsiders" access to The Store. He noted that the big board at the entrance outlines hours of operation as well as disposal being limited to residents possessing dump stickers.
The existing Transfer Station policy was approved in 2009, which requires stickers to access the property. Selectmen, however, can change the policy.
Town Manager Bob Peabody pointed out that allowing access to nonresidents could pose "monitoring" problems from who is tossing garbage into the trash compactor to what is being dropped off at the store.
If items dropped off at the store are not sold over a period of time, they are disposed of — at a cost to local taxpayers. If people from other towns bring items to the store, and those articles fail to sell, locals would pick up disposal costs.
McHatton, however, took the glass half full view. He noted that items dropped off by out-of-towners could sell and boost the town's revenue. As for illegal dumping by nonresidents, McHatton knows it will happen from time to time, but "90%" of the people abide by the rules.
Board Chairman Greg Watkins questioned how diligently Transfer Station staff checks whether people dumping trash and recyclables indeed possess dump stickers.
"Look at the windshield of cars. No sticker, you can't dump. Good-bye," Selectman Bear Zaidman said.
Peabody will review the transfer station policy and address what changes might be needed. He will present the findings at the board's next meeting, Dec. 12.
In other board business,
Lost in the shuffle. Blaine Chapman admitted he was a little "confused" regarding an e-mail he received from Board Chairman Greg Watkins regarding the return of registration fees to the Easy Rider Snowmobile Club.
In the past, the club received $6.62 for every registration and had been awarded additional funding from the town.
Then, selectmen changed the process. All "outside agencies" have to fill out a form prior to budget season outlining the request for funding. The Easy Riders, which had received $1,800 in past years, fell into the outside agency group.
Somehow, the Easy Riders didn't get the memo, and did not receive the additional funds.
Selectman Bob McHatton corrected the matter.
"They are a small club and $2,000 means a lot to them," said McHatton, who suggested officials approve taking $2,000 from the town's contingency fund and give it to the Easy Riders. "They produce good trails, which gets snowmobilers to come here and spend money here."
Watkins asked the town manager how much money was in the contingency fund. While Peabody did not have an exact figure available, he said, "I don't see it being a problem," although he did note that selectmen had mentioned in the past about dipping into the fund for other matters.
"If you overspend the line, you can always come back to the board," McHatton said.
The measure passed 5-0.
Out of time. Selectman Fred Packard is worried that the marijuana issue could become the Wild West if state officials fail to approve guidelines by the first of the New Year.
Packard noted that Feb. 1 is the deadline for the guidelines to be in place. Bridgton and other towns enacted moratoriums to give some time for rules and regulations to be crafted and enacted regarding the location of marijuana dispensaries and social clubs.
Bridgton's moratorium has since expired. If the town desires to enact a second-but-final moratorium, a special town meeting will need to be called to do so.
More cemetery space? If the town wishes to expand the High Street Cemetery (located on South High Street), selectmen will need to schedule an executive session to consider property acquisition.
The issue, previously raised by Selectman Bob Murphy, was placed on a back burner due to questions regarding property lines. One adjacent property owner had expressed an interest to sell land to the town. Town officials hoped to clear up boundary questions by referring to other property deeds.
Chairman Watkins said the board was now at a point that if they wanted to move forward on the issue, discussions would need to occur in executive session.
Busy writer. George Szok has been a busy grant writer. He has submitted six grant requests. Szok contacted seven new foundations regarding available grants. And, he has assessed 14 new foundations as possible grant targets.
Also, Szok has looked at a two-pronged broadband planning approach. First, Bridgton could be part of a five-town Broadband Planning Grant from ConnectMe in 2018, joining Harrison, Naples, Casco and Denmark.
Secondly, he will look to secure funding to conduct a three- to four-month broadband planning study for Bridgton.
Board vacancies. If you ever thought about getting involved in town government, 2018 could be your year.
Bridgton potentially has several vacancies. The Planning Board currently has one vacancy and there will be an additional three terms that will expire in 2018. The Appeals Board will have three possible vacancies — two regular members and an alternate.
Big help. When a tractor-trailer truck clipped a guardrail on the Moose Pond Causeway, causing a section of manufactured housing to land in the pond, it took hours to return the vehicle and home to the pavement.
Engine 5, the town's new fire truck purchased from Cortlandville, N.Y. (which has a strict policy to replace a piece of fire apparatus every five years), provided complete scene lighting, which "far surpassed anything we previously had available," Fire Chief Steve Fay reported to selectmen.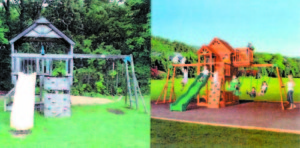 Nice idea, but… The current playset on the Bridgton Community Center grounds is showing its age.
"The current playset has seen better days and we would like to provide a safe and fun place for the children of Bridgton," wrote Carmen Lone, BCC executive director, to selectmen. "The existing equipment has been here for over 17 years and showing serious wear."
BCC would like to replace the old equipment with a new Backyard Discovery Skyfort II residential wood playset with swings, which is available at Lowe's. While the new set is a "bit longer" than the existing unit, the playset would be located in the same area. The project — equipment and chips for the yard — is estimated at $7,000. Donations can be made directly to the BCC at 15 Depot Street in Bridgton or online at bridgtoncommunitycenter.org
The goal is to have the new equipment in place for summer 2018.
Selectmen, however, have a concern. Having upgraded playground equipment at Junior Harmon Field and the play area adjacent to the Town Office this past summer, officials questioned whether the Lowe's product is suitable for a public location due to the potential for heavy usage. Selectmen suggested that the town's insurer be consulted before officials give the BCC permission to move forward.
Secondly, the next question was whether the new playset would fall under the BCC's insurance?
Town Manager Bob Peabody noted that if someone suffered an injury at the playset, "you know where they will look" in terms of liability — the town, since Bridgton owns the BCC property.
Selectmen took no action on the request to allow Peabody time to research the matter.
Meeting schedule. The next selectmen's meeting will be held on Tuesday, Dec. 12 at 5 p.m. Due to holiday commitments, selectmen canceled their scheduled Dec. 26 meeting.
The board will hold two workshops in January.
First up is a two-part session on Thursday, Jan. 4 at 5 p.m. in the selectmen's meeting room to consider a major upgrade of the Highland Lake Beach area as proposed by the town's Young Professionals group. The second will be whether the town accepts 550 acres, which are part of the Perley Mills Community Forest, from the Town of Denmark (see related story).
A workshop will be held on Jan. 23 at 4 p.m. to hear a presentation by Cumberland Town Manager William Shane regarding its Senior Property Tax Assistance Program.
Please follow and like us: