Nature vs. logging? Safety concerns arise regarding hazardous trees in Pondicherry Park
By Wayne E. Rivet
Staff Writer
Taking a casual or brisk walk through Pondicherry Park can be mind-clearing and invigorating.
The stillness of the forest is broken by a squirrel dashing through leaves and up a tree or water splashing as a beaver works on the bank of Stevens Brook.
The crackling of a rotted tree branch and its landing on the leaf-covered forest floor, however, is a concerning sound to Bridgton selectmen.
Hazardous trees, particularly those near park trails, pose a safety problem leaving a few selectmen "losing sleep at night." While there is no disagreement that public safety is paramount, there is a differing in opinion as to how to address the issue at the 65-acre intown park.
Jon Evans, who is an alternate on the Pondicherry Park Stewardship Committee, says the conservation easement does not prohibit or endorse a forestry operation. It recommends following the management plan for dealing with hazardous trees.
The plan states, "Trees that have fallen into the trail should be removed and left in the forest to naturally decompose. In the summer and fall, tree branches and low-lying vegetation and roots should be clipped or limbed up to allow for clear passage along trails…Remove hazard trees in proximity to trails and structures. Leave dying trees that are not a hazard in place for wildlife habitat purposes."
"To have a timber harvesting company come in, I don't feel is feasible," Evans told selectmen. When Selectman Bear Zaidman raised concern about diseased trees, like those found on Sabattis Island, which the town had removed, Evans said the park's maintenance plan calls for removal, but urges to keep the forest's canopy intact, thus stopping invasive plants (which exist there) "from taking over."
Forester Jack Wadsworth looked at the park in April, and with Dylan Smith prepared a report entitled, "Forest Condition and Recreational Safety Assessment for Pondicherry Park."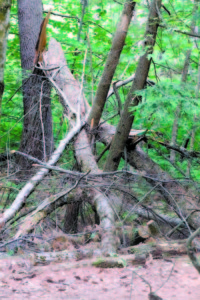 In short, Wadsworth found existing conditions a "dangerous situation."
"The number of dying trees throughout the park is a bit concerning. The hazardous trees near the hiking trails are obvious, however, the trees and forest as a whole needs to be considered. Often, recreationalists will wander off the hiking trail into the woods, which is full of trees on the verge of collapsing or dying. A timber harvest would be a good option to stabilize and improve the overall safety of the forests by lowering the levels of tree mortality in the park," the report states.
Wadsworth noted that the conventional method of a logger cutting trees down with a chainsaw and using a smaller cable skidder to move logs to a landing nearby is not recommended for Pondicherry Park.
"The high number of trees with dead tops and limbs, this would pose a serious safety risk when the logger tries to cut the trees down," the report says. "A conventional logging operation does not include a wood chipper either, which is a machine that loggers use to chip up dead wood and tree branches into wood chips…A chipper would really be essential for Pondicherry Park because of the amount of dead and decaying trees (typically only sold as biomass). Without a chipper, tree tops and branches would be left and scattered throughout the park which wouldn't be ideal."
Selectmen appreciated the need to strike a balance between clearing hazards with little disruption to the natural scenery.
"We need to find a happy medium," Board Chairman Lee Eastman said.
Selectman Bob Murphy wondered if the town could take a step back in time and seek out individuals that still use horses to pull logs out of the forest to the spot where a chipper is positioned, rather than trying to use machinery that could be difficult to move without causing damage inside the park.
"I'm sure that they are around, but it's not economical," Wadsworth said.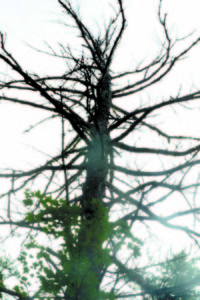 Again, both Wadsworth and Evans stressed the importance of finding a solution with safety in mind — both for loggers and the hiking public.
"We want the same outcome, but we have different approaches," Evans noted.
Zaidman asked that Town Manager Bob Peabody set up a meeting with the state forester to continue discussion on this issue.
Better access on hold
Thom Perkins, executive director for Loon Echo Land Trust, updated selectmen on an effort to develop "access for all" at Pondicherry Park.
Perkins would like to see trails reworked to enable those with disabilities a chance to experience the 65-acre park. Some grant money has been secured to improve trail surfaces. Perkins, however, understands that this project should remain on the shelf until officials address the matter of thinning the forest of hazardous trees and invasive plants.
Zaidman challenged Perkins to seek out enough grants to fund the entire universal access project since Bridgton taxpayers over the next few years will be asked to fund major infrastructure improvement projects — making it less likely they will be willing to assume such an expense.
Perkins estimated that the project would cost between $40,000 to $50,000, and for the organization to seek out grants would need a sign of support from town officials.
Please follow and like us: