Melby's Market & Eatery sold
By Gail Geraghty
Staff Writer
Twenty-six years ago, Paul and Kay Legare bought North Waterford's iconic Tut's General Store and brought it back from the brink of disaster. They gave it a new name — Melby's Market & Eatery —and worked countless hours to build it back as a central hub of community life, not to mention its reputation as a great place to eat.
On Feb. 15, the Legares will turn over the business to new owners Wayne and Tracie Hill and take off for Alaska in their motor home. Overwhelmingly, their customers are expressing their gratitude — and their understanding. On Melby's Facebook page, the customers were calling it the end of an era.
"Thank you for all the great breakfast, lunch and dinners, especially in the winter when we came on snowmobile and in the summer too," said Elaine Parmalee Jackson. "Our kids grew up knowing Tut's, then Melby's. We will miss both of you, but know your legacy will be carried on. Congratulations!"
Another customer, Nancy Eaton, said, "You know how much we all love and support you. After all these happy years, we say congratulations on this well-earned new adventure. Daddy especially will miss Kay and her wicked good fish chowder. Above all, thank you both for your kindness and for being such an integral aspect of Waterford. Bon voyage and happy trails!"
On Tuesday, the Hills, who are living in one of the three apartments up over the store, said they are very excited, and a little daunted, about continuing the legacy. After all, the historic building near the corner of Valley Road and Route 118 has operated as a general store for over a century now.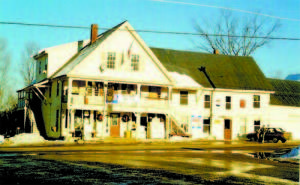 They've been busy studying all the recipes for such Melby's favorite fare as its fish chowder, pumpkin whoopee pies, homemade pies and, of course, its signature buffalo burgers. They plan to add their own personal touches over time, but initially the menu will remain the same.
"It's always been our dream to have our own place," said Tracie. Warren grew up around the area, and both have management and kitchen experience. They first became interested in the store last summer, when they attended the Waterford World's Fair and learned that the store was for sale.
To hear Paul tell it, as soon as he heard of the Hills interest in buying the business, he was all ears. Both he and Kay have been ready for some years now to kick back — the store is open 6 a.m. to 9 p.m. seven days a week — but they didn't want to let go before finding someone to take their place. Their last day as owners will be Feb. 15, and the store will only be closed one day, on Feb. 16, for inventory before reopening the next day under the Hills ownership.
Paul said it was rough going at first when he and Kay took over the store in 1990.
The Legares plan to motor on to Las Vegas after spending time in Alaska and Quebec's Gaspe Peninsula. For several years Kay has led cruises and trips to various locales, but this time she won't be tied to the demands of running the store. Sometime in late spring or early summer they'll be back, and will stay at other property they own locally. Eventually they plan to build a new home on land they own in Lovell, Kay said.
Tracie said the community has been very receptive to her and Warren, and she chuckles at the first question everyone asks when they meets her.
"They want to know if we're going to keep the $2 bills," she said. The Legares always kept a stock of $2 bills on hand to give out as change, as well as 50-cent pieces, and Tracie said she will definitely continue that tradition.
"We're both believers in the notion that if it ain't broke, don't fix it," she said.
Kay told customers in a farewell Facebook post that their employees "will be staying to take care of each and every one of you, and to help Wayne and Tracie succeed in their new exciting adventure. Please help support them and keep Melby's flourishing with some new wonderful menu ideas as well as all your favorite food from the past."
Please follow and like us: