Honor long overdue: Steven Andrews receives his Purple Heart
By Wayne E. Rivet
Staff Writer
HARRISON — Steven Andrews has faced two major battles in his lifetime.
As a young man, he was drafted into the Army and was wounded in action in Vietnam.
As a 66-year-old, Steve is slowly recovering from a battle with a brain tumor.
Two chapters of his life collided last week when Steve was presented the Purple Heart by U.S. Senator Susan Collins and Maine National Guard Chief of Staff Col. John Jansen at a ceremony held at the Ronald G. St. John VFW Post 9328 in Harrison.
"It's special. It's long overdue," Col. Jansen said.
Forty-six years had passed since a young Steve Andrews was wounded and no recognition of that sacrifice had been made.
Until, a brain tumor struck and started the ball rolling to correct the oversight.
The first sign of trouble was Steve started to forget "simple daily things."
"He would get up in the middle of the night and we thought he was sleep walking. He couldn't find his way back to bed," said his wife, Lori. "He worked for the school district, and Andy Madura (who is in charge of buildings and grounds at SAD 61) told me something wasn't right with Steve. He wasn't understanding what Andy was telling him."
At first, Steve agreed to see a doctor. Then, he felt nothing was wrong — until he tried to fill out a time sheet, and couldn't.
Steve saw a neurologist, who ordered a MRI. He had an X-ray first, which revealed a brain tumor. Surgeons would remove part of Steve's brain in May 2011, which resulted in memory loss. A month after surgery, Steve could not remember who Lori was, at times. He experienced hallucinations, which included seeing snipers in the nearby woods. In hopes of improving his overall condition, Steve was placed in a rehab center in Eppingham, N.H. There, Steve is undergoing therapy so he can again make decisions for himself. Steve has made progress, and Lori is hopeful that the Veterans' Administration will award the family funding to hire a "companion," who can oversee and work with Steve in his home. At the moment, Steve makes occasional trips home.
"I know that I will not get Steve, the guy I married back, but I remain hopeful that even if he is a little different, I get Steve back," Lori said.
The couple has been married 12 years. They both worked at the Bridgton Knitting Mill, and when the facility closed, they found jobs with the SAD 61 school district.
"We thought that the brain tumor could be the result of Steve being exposed to Agent Orange during his time in the military. So, we drove to Togus and checked with the benefits department," Lori said. "We were told we might want to put in a claim. We did. We were asked if Steve had ever been wounded, and we told them he had."
Drafted as a member of the U.S. Army 2nd Battalion of the 35th Infantry Regiment, 25th Infantry Division during the Vietnam Conflict, Steve was injured on April 6, 1967. He took a gunshot wound to his right leg in Phy My during a "search and destroy mission." The gunshot resulted in a compound fracture to his fibula. He was also treated for a hookworm infection.
Steve was honorably discharged on Dec. 16, 1967.
"He never received his Purple Heart. He never pursued it afterwards because Steve really didn't want to think about the war. He rarely talks about that time in his life," Lori said. "He filled out a claim for the brain tumor and gunshot wound. I called Togus about the Purple Heart and was told they had no records of Steve being wounded."
So, Lori called U.S. Senator Susan Collins' office for help. Lori had to fill out and seek out various forms, and then sent them to the senator's staff. In August, Steve was notified that the 46-year oversight would be corrected — he would receive his Purple Heart.
Senator Collins wanted to personally award the medal to Steve, but was unavailable at that time. With Steve recovering from brain surgery, the delay was not an issue.
"When 46 years have gone by, there is no rush," Lori said.
Three weeks ago, Lori received a call from the senator's office with a date for the medal ceremony. Lori hoped for a weekend date to allow family members ample opportunity to attend. But, due to the senator's busy schedule, Lori was recommended to take whatever date given.
Local officials expected about 40 to 50 people to attend the ceremony held at the Ronald G. St. John VFW Post 9328 in Harrison last Thursday. To their surprise and delight, the crowd exceeded 100.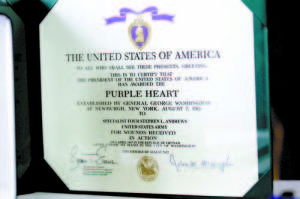 Steve was also presented an American flag, which Sen. Collins had ordered flown over the Capitol.
The entire "moment" took the Andrews' family by surprise.
"I didn't know about the VFW memberships or about the reception. I didn't expect that Steve's whole family would be there because they have to work. They were all there except one sister. It was an amazing moment," Lori said. "I am overwhelmed with what Senator Collins' office has done."
At first, Steve thought Lori was "making too much of it," but as the ceremony neared, he was nervous but also reflective. He hoped that people would remember all of those fellow servicemen who died during the conflict and the sacrifices they made.
"With his brain tumor, he has not been in a good way at all. For him to think that and say that, I am starting to see that I am getting my husband back," Lori said. When Sen. Collins handed Steve the flag, he turned and told Lori that the flag was hers to keep.
"When I got home, I asked him what he meant. He told me that he wanted me to have the flag because everything I had done for him," Lori said.
The Purple Heart is, perhaps, the most unique of all United States military awards. Though lower in the order of precedence on the Pyramid of Honor, it is one of the most widely-recognized and respected medals. It cannot be earned by courage or by exceptional service or achievement.  So despite its place in the order of awards it is one that signifies a place far above its rank.
The Purple Heart signifies "sacrifice" — blood that has been shed in defense of liberty. The United States Army regulations specified the design of the medal as an enamel heart, purple in color and showing a relief profile of George Washington in a Continental Army uniform.
The award was originally introduced as the "Badge of Military Merit," by General Washington in 1782 making it the nation's oldest military award.
Steve was also presented a Bronze Star, replacing one that was misplaced. Lori initially spoke with an intern at the rehab center about the missing medal. He, in turn, found one at an antique shop for sale. He told the shopkeeper that he couldn't sell it. He told the shopkeeper Steve's story, and the man gave him the medal. He brought the medal to Steve's Purple Heart ceremony.
Senator Collins' staff, however, told Lori that Steve "needs his own" medal and would make arrangements for a new one to be issued to him. In fact, the senator's staff informed Lori that Steve should have two Bronze Stars — which is news to them.
"Maybe based on their investigation of Steve's case, they found something else," she said. "We'll see what happens."
With over 100 in attendance, the ceremony opened with the "Presentation of Colors," by American Legion Post #155 of Naples-Casco-Raymond.
The Pledge of Allegiance was led by U.S. Army (Retired) Jeremy Wentworth and Commander Steven Wentworth American Legion Post 139.
The Opening Prayer was performed by Philip H. Denison, Chaplin, William I. Pembroke American Legion Post 139.
Welcoming remarks were presented by Wayne Cadman, Past Post Commander, VFW Post 9328.
Please follow and like us: