Gasping Gobbler this Saturday, Turkey Trot next week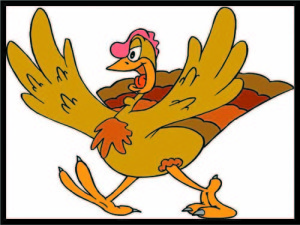 Gasping Gobbler 5k Walk & Run
LOVELL — Runners and walkers are invited to take part in the Ninth Annual Gasping Gobbler 5K Walk & Run set for Saturday, Nov. 22 at 10 a.m.
The 3.1-mile course is at the Lovell Athletic Fields on Smarts Hill Road.
The popular race benefits the Lovell Recreation Department's youth and adult programs, helping to make them affordable and accessible.
The course consists of three wheel-measured loops around the grass and dirt perimeter of the athletic complex and simulates many school cross-country courses and is very spectator friendly.
The first 75 entrants receive a Travel Mug premium!
Visit HYPERLINK "http://www.Lovell5k.com"www.Lovell5k.com to download a registration form. The cost is $12 if you pre-register and $15 on race day. Sign up as a team of four for $40 and be in the running for a homemade apple pie! Refreshments and awards will be presented after the race at the Lovell VFW Hall. Turkey awards go to first place male and female runners, first place walker and "middle of the pack," as well as age category prizes and ribbons for the Top 10 walkers.
For more information, contact Stan Tupaj at 925-1500 or stan@fairpoint.net
Turkey Trot 5K
HARRISON — Get your walking/running shoes on and join your family and friends for the Third Annual Turkey Day 5K, on Thanksgiving morning beginning at 8:30 a.m. in Harrison.
Registration begins at 7 a.m. the day of the race. Pre-registration forms may be found at the Harrison and Bridgton town offices and libraries, the Village Tie Up in Harrison, Maine Street Graphics and Main Street Variety in Bridgton or by contacting Barb Stauble at 583-4445.
You may also pre-register online at www.runinarace.com
A $25 registration fee will be collected and donated to St. Jude's Children's Hospital, which provides care to critically ill children regardless of their ability to pay.
The race will start and end at the Greenwood Manor Inn on Tolman Road (located off Route 117 in Harrison) with prizes awarded to the top finishers in seven age categories. Goodies for all!
Please follow and like us: