Eye on the Olympics: Kate Hall forgoes final college season to focus on bigger goal
By Wayne E. Rivet
Staff Writer
CASCO — The decision really wasn't a difficult one for Kate Hall.
Although the former Lake Region track star achieved successes at both Iowa State and the University of Georgia (see accompanying Bio Sheet, which appeared on the Bulldog Athletic website), Kate felt deep down inside that she wasn't on the right path to reach her dream — a spot on the Olympic track & field team.
So, after considerable thought and conversations with her parents and her longtime trainer, Chris Pribish of UMed Gym in South Portland, Kate decided to forego her final year at UGA, will no longer compete in the NCAA and will focus on qualifying for the World Championships next year.
While she will continue to take a few classes toward her degree in exercise science ("I want to stay heading in the right direction," she said), her primary focus will be training, competing and vying for the Olympic team in two years.
With a slight breeze giving some relief from Tuesday's scorching heat, crossing the deck at her Quaker Ridge home in Casco, Kate offered some insights into her decision, what she has learned from a "jumping" standpoint during her two college seasons as well as about herself, and what it will take to realize her dream.
BN. What prompted the decision to leave the University of Georgia?
Kate: I made the decision because the NCAA season is a little bit too long (if we got to school in August, training would start at that time, start competing in January, and get done about mid-June, when all the really big meets start with the pros until August), so when it got to be the time to compete in the bigger meets with the pros, I was so tired that I couldn't do it. I really want next year to be a year of getting exposure and experience before Olympic year, and I couldn't see that happening in the NCAA. My focus will be competing over the summer against some pros. When I went through the US Championships last year to qualify for the Worlds, a couple of days before I was suppose to compete, I hurt my hamstring and I couldn't compete. And then, this year, I was so tired that I couldn't compete because I knew it wouldn't have turned out well. So for two years in a row, not going to the USA Championship meet, I could see that I couldn't get where I wanted to be with the NCAA season…Diabetes affects recovery in a huge way. With your blood sugars going up and down, it's another stressor on your body. For the training I had, it was group training. We were doing the same thing every day, and I always felt I was a little behind because I needed more recovery…The decision took a lot of thought and a lot of talking with friends and family, but once we sat down and talked about it and thought about it, it was a really easy decision.
BN. What advantages do you see by making the change?
Kate: I will now get more personalized training. My trainer here in Maine (Pribish) knows a lot about diabetes and how it factors into training. I now get to experience the "pro" world and compete internationally, getting the experience I wouldn't have had. It's going to be fun…Currently, I am trying to get an agent (we've talked to a few, and it's been a longer process than we thought, but we're narrowing it down right now. We're almost there). Once that happens, the agent will get me into some really big meets. I can go overseas and compete in the "Diamond League" meets. There are standards for the USA Championships and World Championships. If I hit those, I can go.
BN. What is your ultimate goal and what will it take to reach it?
Kate: To make the Olympics in two years. It's been my goal for many years. I'm 21 and will be 23 when that happens. I just think that training the right way, and my body feeling good, getting experience competing with other pros at a very high level, I think that will be the way to achieve that goal.
BN. What is your training regiment like these days?
Kate: I took a month break, and a couple of weeks ago, I started up again. Nothing crazy, just a couple days a week going in to see my trainer and working on some corrective exercises, just to get going and get my body back to where it should be. I won't start any intense workouts for a little while. I was good to get a little break, figure out what the next steps are, and how I want to do it.
BN. Regarding your collegiate experiences, what did you learn from your time at Iowa State and Georgia?
Kate: I learned about the technique of long jump. In high school, I didn't have that, it was more having the strength aspect. At Georgia, I learned how to jump. How it feels to consistently jump well. It was a huge confidence boost for me. Also, having teammates that pushed me a lot.
BN. Why did you make the move from Iowa State to Georgia?
Kate: That decision stemmed from knowing that the training there wasn't right for me. I knew I couldn't thrive under it. Other athletes there were thriving, but I knew that if I stayed, I couldn't get better. That's why I made the decision to go to Georgia. It was a really good decision for me.
BN. What lessons did you learn about track (training, the demands, etc), the competition, and yourself with at these colleges?
Kate: I gained a lot of confidence competing. In high school, I wasn't use to having a ton of competition until I got to nationals. Once I consistently had that competition in college, it made competing that much more fun and it helped me on the biggest stages.
BN. If there was advice you could give high school athletes contemplating where they might like to continue to play and also pursue their career choice, what might it be?
Kate: The main thing is to set goals and work hard to achieve those goals. As long as you stay healthy and do the right things, you can get where you want to be.
BN. Regarding your training, how has it changed or evolved?
Kate: In high school, the focus was getting the body to be stable before adding heavy loads. In college, the focus is lifting heavy all the time. Doing more jumps in practice. I did lift in high school, but it wasn't as heavy and as much. Lifting heavy isn't necessarily a bad thing, but too much of it can take a toll on your body.
BN. Have you had to fight through some injuries. How did you bounce back?
Kate: Every time that I came home — Thanksgiving, Christmas and Spring Break — I went to see Chris (Pribish), my trainer. He took a look at what was going on (I had a hamstring problem and then a quad issue this past year, nothing major but had to take off a couple of weeks) and gave me some things to do when I went back to school. It really made a difference. I needed more recovery.
BN. How do you stay so motivated?
Kate: I love the sport and think it's fun. I am really competitive at the same time, so it pushes me to get better. I know a lot of kids that if they don't love what they are doing, they're not going to be motivated to get better. I knew when I first started track that I love the sport. I also know what I am up against. In college, I was competing against some of the pros at times, and I knew what other college and international athletes were doing. So, it was cool to shoot for those marks. I've competed against Brittney Reese (hometown of Gulfport, Miss.) a couple of times. She is the Olympic gold medalist (and seven-time world champion). She is really nice, and I've talked to her. Getting to know these pros a little bit really helped me not feel intimidated by them. It relaxes me. It's exciting to know that I am competing against the best of the best, and that I am on that level.
BN. What is your best long jump mark? What is the mark you are shooting for? What does it take to stretch that jump out to reach that goal?
Kate: Reese has been in the mid to high 23s (personal record at 23-feet 9 ½-inches). She's incredible. I am mid 22, so another foot would put me closer to where she is. I'm expecting to jump farther. To get to that point, it's about training, working hard. I've been getting more consistent over the years, so now if I can stay consistent, hoping my body feels good all the time, I think I can consistently get better. It all has to come together – my speed, strength and technique. My mind has to be clear, and once all those things come together, that jump will happen.
BN. Has there been moments when you start considering when the pursuit will come to an end and you will move on to other things in life? What do you want to do once track competition ends?
Kate: I think about it all the time. My major is exercise science and I love that field because that's what my trainer does. I want to follow in his footsteps. It's the goal after the whole track thing is done. To help other athletes get better and motivate them. I'd like to think I'll be in my mid-30s at that point.
BN. What do you do to relax or clear your mind and give your body a rest from training?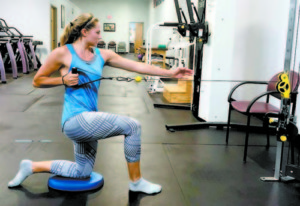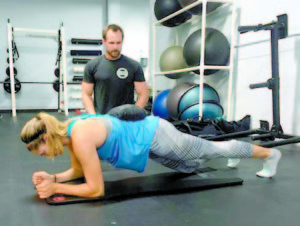 Kate: I like to paddle board a lot, it's really relaxing. I like to hike. I'm an outdoorsy kind of person — go to the lake, the ocean, they're all a good way to clear my mind. It was cool to be in Georgia because it was an entirely different environment, but then I didn't realize what I had here. Coming back, I realized how lucky I am to live here.
Please follow and like us: