Camp O-At-Ka counselor breaks away for Casco Days win
By Wayne E. Rivet
Staff Writer
CASCO — Just a few weeks ago, Dan Allara worked through grueling heat to place 10th at Bridgton's 4 on the Fourth.
So, when faced with another scorcher Saturday in Casco, the 19-year-old camp counselor took the same approach.
He just ran.
"I broke away a little after the two-mile mark. It's just how things went. I didn't have a plan, really. I'm a college runner. I run a ton," the Hamilton, Mass. resident said. "It was hot, but I was feeling good. There were a lot of people throwing water on me."
It all worked out for Allara, a counselor at Camp O-At-Ka in Sebago, who claimed the Casco Days Road Race in 22 minutes, 21 seconds. Will Shaughnessy, 16, was second in 22:37.
A longtime summer camper, Allara is in this third year at the Sebago camp and is in charge of the pottery program.
"I love the kids. I love living in a big group," he said.
He was also quite proud of one of his little guys.
"Beau is the real star," Allara said. "He ran the whole way, and he is only eight. Everyone else at the camp is older."
Beaufort Whitaker of California placed 203rd overall in 36:33. While it was hot, Beau refused to walk. His inspiration?
"I was thinking about my dad," said Beau, who pointed out he ran a seven miler in San Francisco.
Meanwhile, there was a changing of the guard on the ladies' side. Erin Flynn's four-year win streak came to an end as Tessa Cassidy, 20, of Slovenski's Camps in Raymond, broke the finish line tape in 24:42 for 11th overall.
Flynn, who won four straight and five of the last six Casco Days races, checked in at 25:18, which was actually three seconds faster than her winning mark last July.
Here are age category winners:
13 and Under
Jane Leonard, 11, Norway, 37:19
Nicholas Minkin, 12, Bexley, OH, 29:59
14 to 19
Caroline Evans, 19, 27:45
Sean McDowell, 18, Arden, NC, 23:34
20 to 29
Melissa Lehman, 29, San Francisco, CA, 25:37
Conor Donahue, 22, Princeton, NJ, 24:27
30 to 39
Jenna McDermott, 34, Norfolk, MA, 30:50
Jeff Lindy, 39, Brookline, MA, 23:48
40 to 49
Sara West, 46, Dover, NH, 32:10
Kyle Rhoads, 48, Windham, 25:09
50 to 59
Karyn Bristol, 54, Otisfield, 29:08
Timothy Stanley, 51, St. Paul, MN, 26:27
60 to 69
Janet Guidi, 64, Harrison, 42:59
Thomas Brown, 67, Jamison, PA, 31:27
70 and Over
Kari Medenbach, 70, 58:33
Paul Lachance, 71, Raymond, 40:22
Camper Category
13 and Under
Morgan Sheehan, 13, Agawam, 26:51
Phelan Bryant, 12, Wohelo, 33:36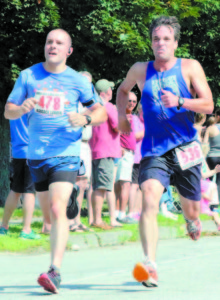 14 to 16
Tucker Stanley, 15, Timanous, 23:26
Romina Hinojosa, 15, Wohelo, 27:02
Full race results at Casco Days website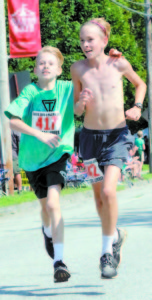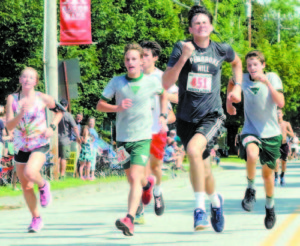 Please follow and like us: