Bavarian Chocolate Haus coming to Bridgton in the spring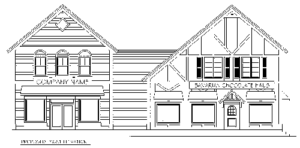 The Bavarian Chocolate Haus, this year celebrating its 25th year in North Conway, N.H., is excited to announce its plan to open a second store in Bridgton next spring!
The Bavarian is well known throughout the region as a highly respected traditional hand-dipped chocolate shop with loyal visitors and locals enjoying their large selection of handmade confections.
Current owners Scott Ferrari and David Hallett, who purchased the shop from the original owners Edward and Doris Gazda in 2008, have worked hard to grow the business while maintaining the highest level of care with their creations.
Why Bridgton?
"The attractive revitalization happening in the downtown and also the support of Justin McIver and his team" says Scott Ferrari.
McIver is the owner and force behind Main Eco Homes, a builder and developer devoted to high-quality, energy-efficient and attractive buildings and homes.
"Justin has been keeping in touch with us for years, talking about the resurgence Bridgton has been experiencing over the last decade. We listened to his proposal, and it resonated with us!" Ferrari said. "We were at the point we wanted to grow and bring our special products to an expanded audience. Bridgton seems a perfect fit for us. We love the look of Main Street, and we are excited to become a part of it!"
McIver and Main Eco Homes have recently completed the new "Chalmers" building on Main Street in Bridgton, and just prior to that built another new commercial space on the corner of Main and Cottage, housing both the very successful Firefly women's apparel store, and Towanda's, an outstanding specialty deli and eatery.
"I was raised in Bridgton," McIver says, "and I'm very happy that Scott and David of the Bavarian are coming to town. They will certainly add value here, and be a part of the growth of this wonderful community."
In describing his plans for the new building on Cottage Street downtown, McIver says, "The Bavarian in North Conway is this really interesting German-style cottage — that was the inspiration for the design of the new building. I think it will be a great addition to the downtown, and a perfect home for the Bavarian here."
McIver plans to break ground this fall, with completion of the building and opening of the Bavarian's new store in the spring of 2017.
Please follow and like us: